Touchstone Brewing Company is Touchstone Climbing's very own brewery! Located in Sacramento and sharing the property with Pipeworks, Touchstone Brewing Company is a brewery, taproom, and outdoor beer garden. We are also currently selling cans for curbside pickup. Keep an eye on Facebook and Instagram for updates from the brewery and taproom.
Beer Pick Up Hours
(Closed on major holidays)
Monday – Friday:
6:00am–10:00pm
Saturday + Sunday:
9:00am–6:00pm
Stay and Have a Beer Hours
(Closed on major holidays)
Thursday + Friday
4:00pm–10:00pm
Join us on Thursday and Friday nights! We will have 5 rotating beers on tap, there will be discounts on cans-to-go, and food will be available.
---
Our Beers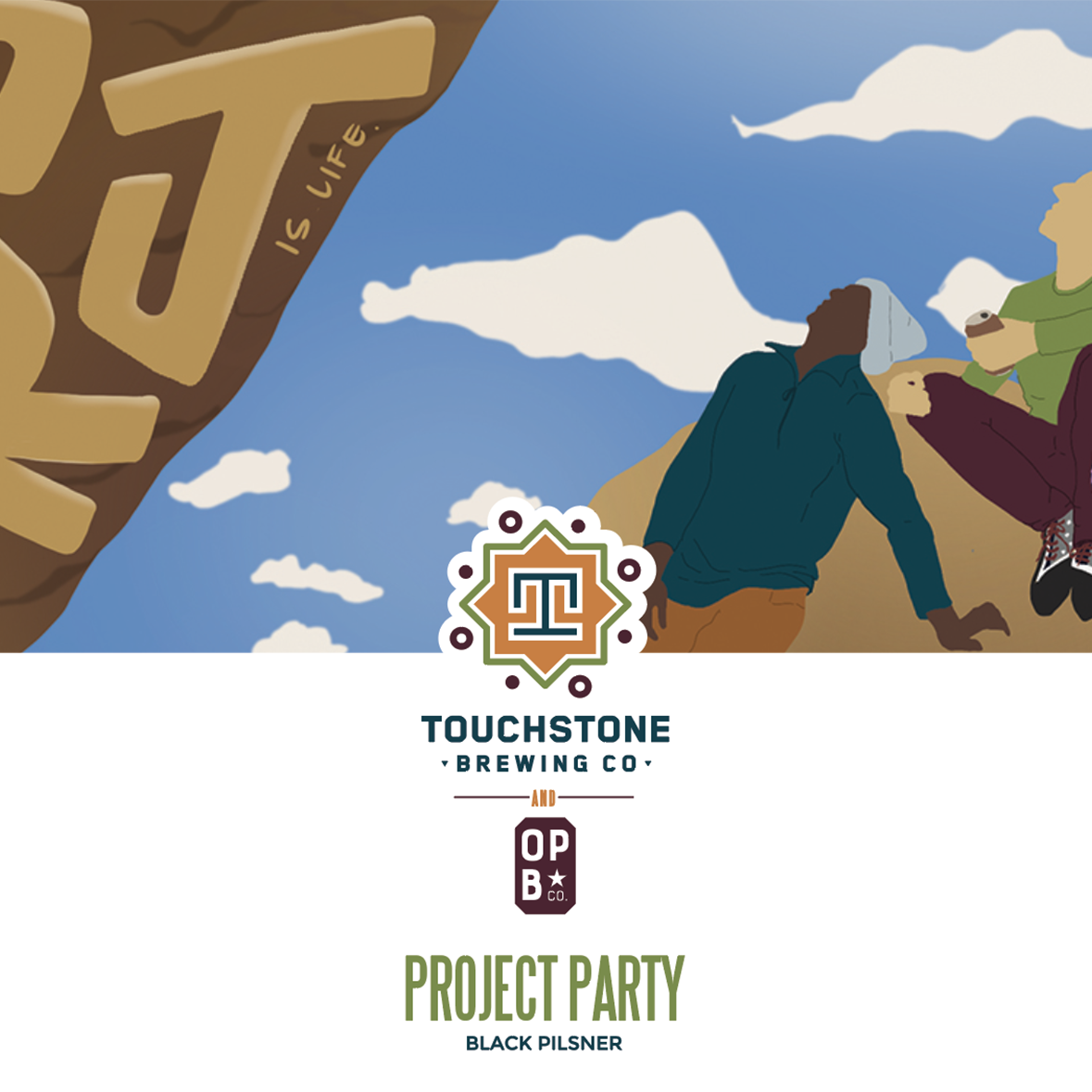 Project Party
Black Lager – 5.4% ABV
Check out this new collaboration we did with Oak Park Brewing. Traditionally referred to as a black lager or schwartzbier, this clean & dry lager has some notes of chocolate and dark roasted barley. Chalk up and give the Project a try!
---
Hollywood Hans Blonde
Blonde Ale – 5.4% ABV
Hollywood Hans Florine has been speed climbing since before it was cool, and on much larger features than you saw in the olympics! This lightly hopped Blonde Ale features New Zealand Moutere hops, and has a nice fruity and floral finish, with minimal bitterness. We don't expect this one to last long, so give it a go today!
---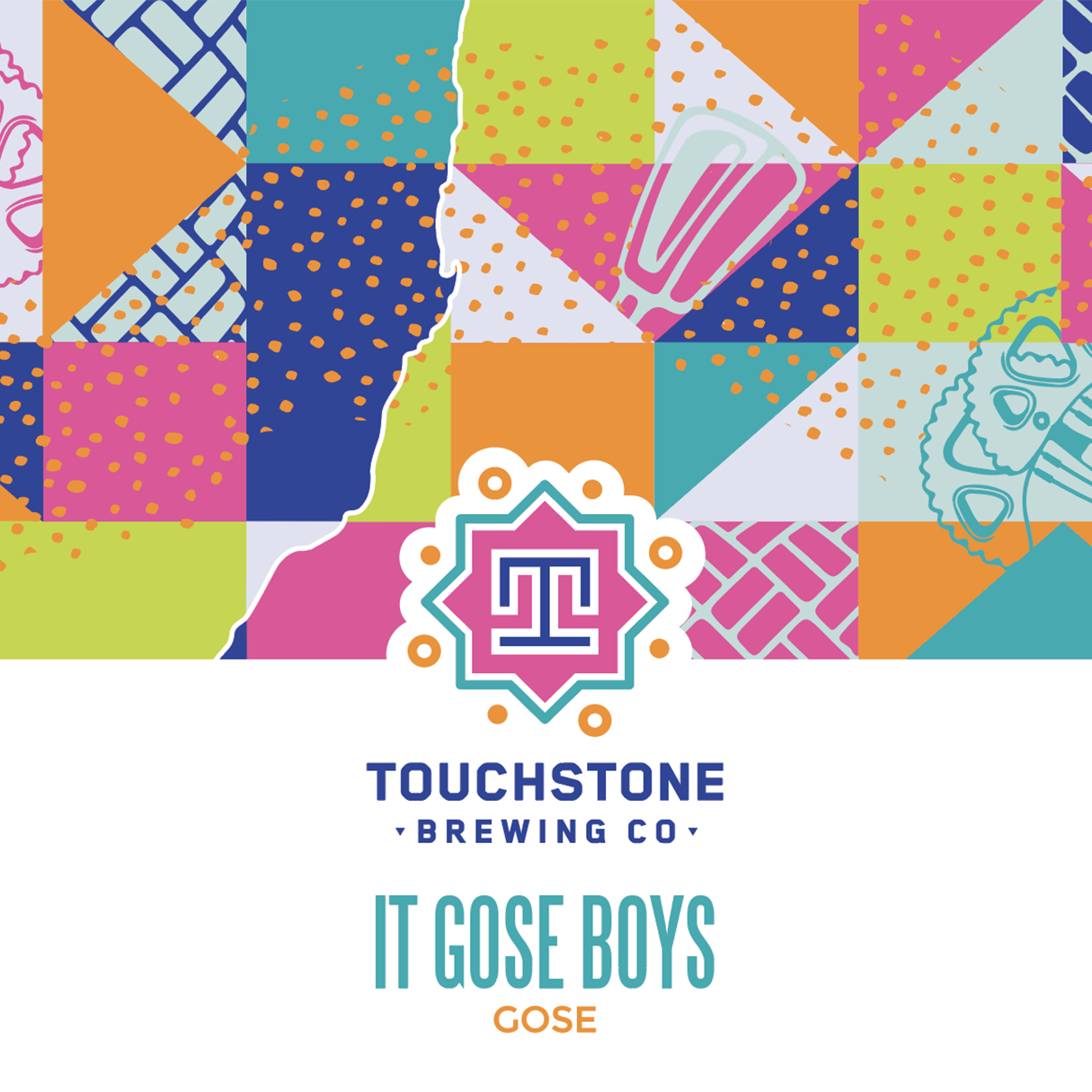 It Gose Boys
Lemon Cherry Gose – 5.2% ABV
Lemon and cherries on top of a clean, sea-salted gose make this nicely balanced with tartness and a bit of sweetness. The name comes from the famous quote from Lynn Hill after the first free ascent of El Capitan's Nose, "It goes boys."
---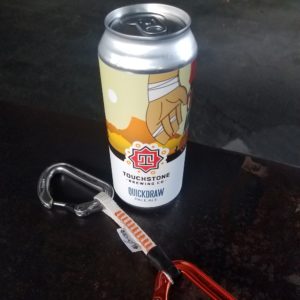 Quickdraw
American Pale Ale – 5.6% ABV
The current brewer's favorite, this American Pale Ale is super crushable. Galaxy & Loral hops shine bright throughout this beer, dancing the line between Pale Ale and Session IPA. Gates out, gates in…whatever helps you get this one in faster!
---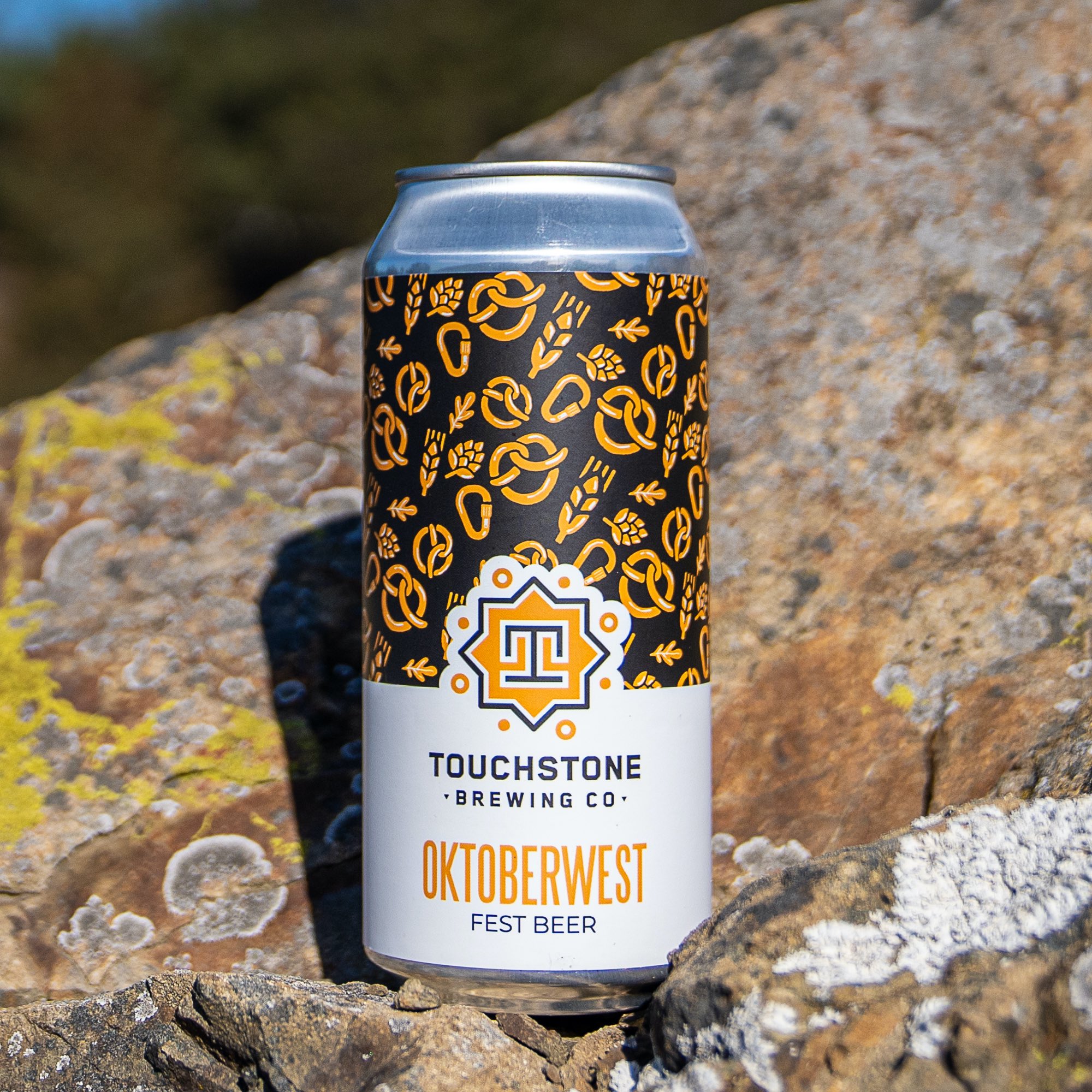 OktoberWest
Festbier – 5.9% ABV
A traditional German lager built with true West Coast ingredients, this is our version of a German Festbier. Made with 100% California malt from Admiral Maltings and Pacific Northwest hops from Yakima Chief, you'll only need to go to Germany for the Frankenjura.
---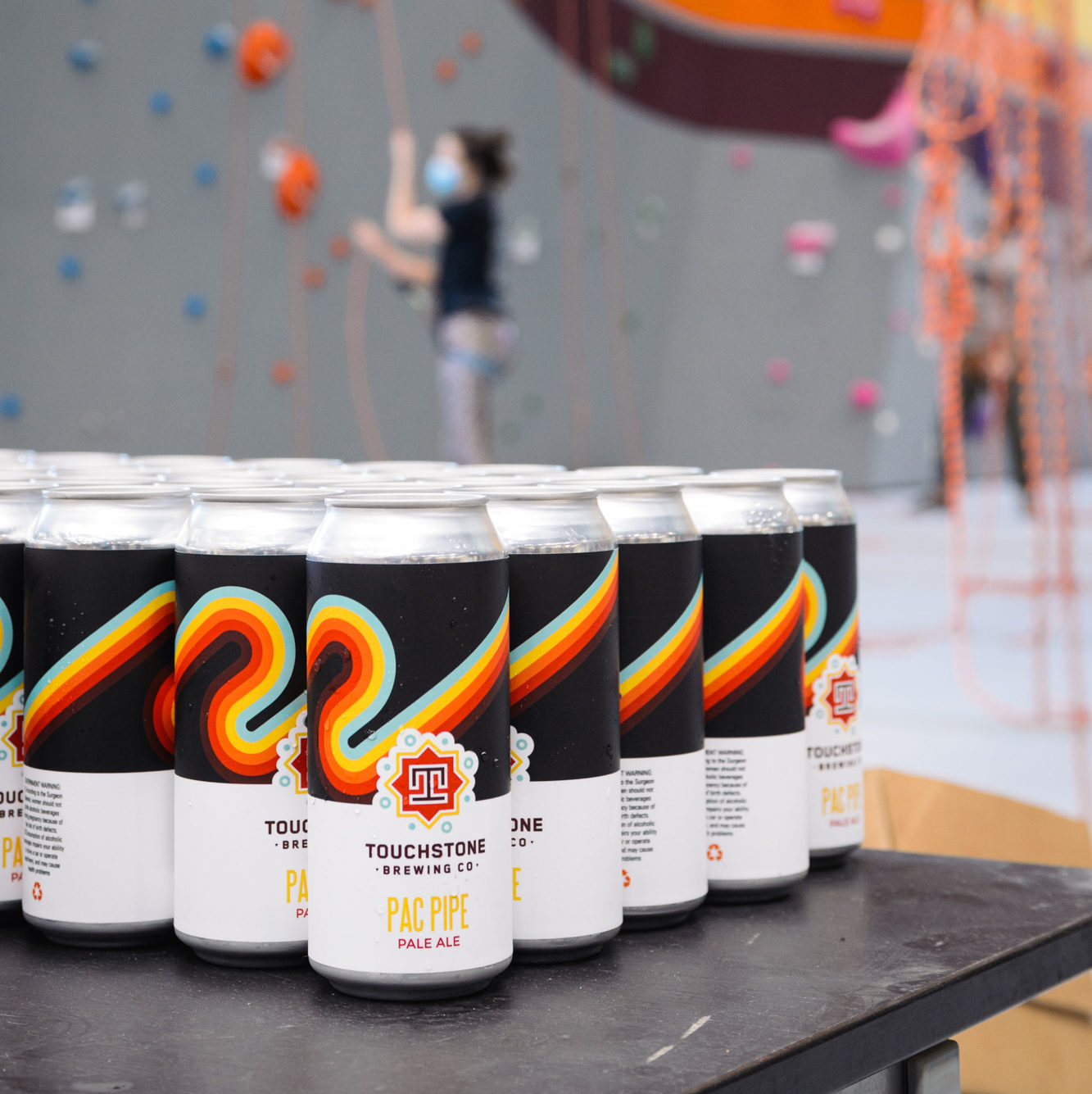 Pac Pipe
American Pale Ale – 4.9% ABV
Brewed to celebrate our newest gym, Pacific Pipe in West Oakland! This mellow pale ale is loaded with amazing hop characteristics from Amarillo and El Dorado hops! This will be a very limited release here, so pick it up now!
---
The Meadow
Dry Hopped Pilsner – 4.2% ABV
Rest Days in Yosemite Valley always include a trip to The Meadow. This super crispy, easy drinking pilsner is dry hopped with Zuper Zaazer from Hop Head Farms, leaving you with gentle notes of Lemongrass at each sip. Go relax in The Meadow…with The Meadow.
---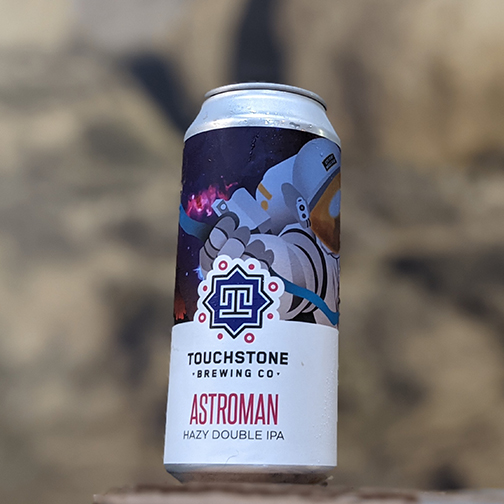 Astroman
Hazy Double IPA – 8.0% ABV
We used Galaxy & El Dorado hops throughout this smooth, pillowy, hazy double IPA. Astroman is a world class climbing route that we will likely never be strong enough to climb, so we cut corners and decided to drink it instead! Still counts as a send!
---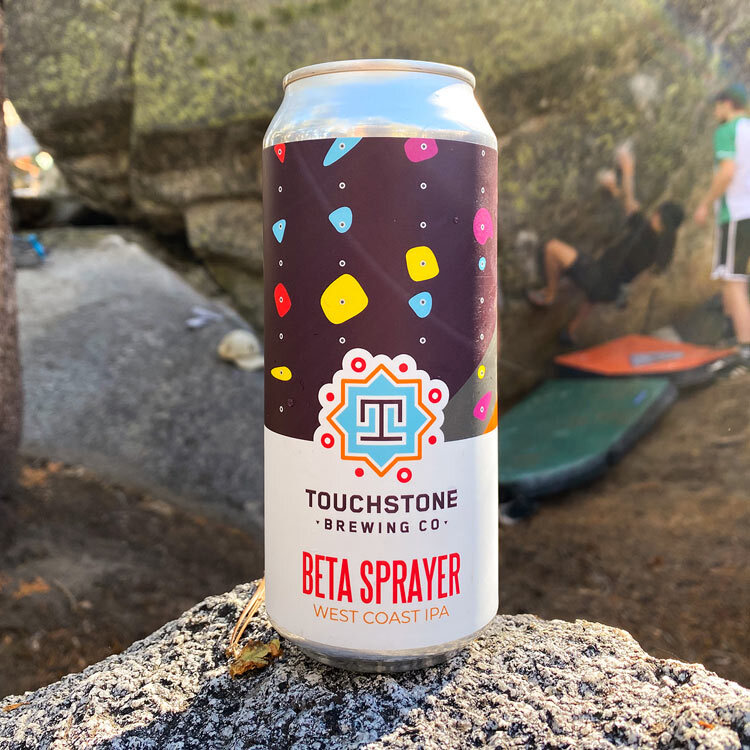 Beta Sprayer
West Coast IPA – 6.5% ABV
This West Coast IPA is bitter, hoppy, and clean with notes of citrus and pine, and we're happy to give you the beta on it. We threw all classic C hops into this one: Centennial and Cascade for bittering, Chinook throughout, and a heavy blast of Citra for aroma and flavor. Delicious.
---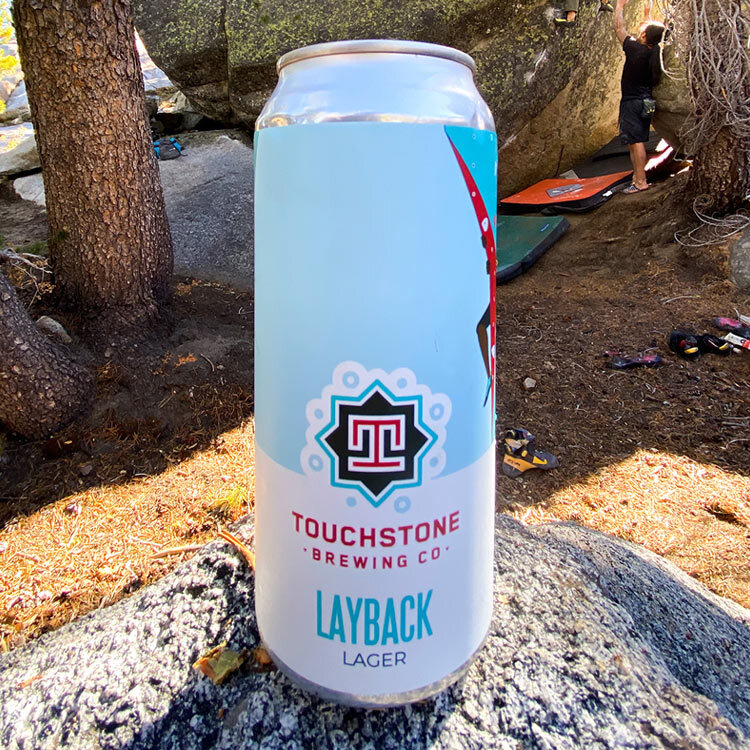 Layback Lager
American Lager – 4.9% ABV
When you can't jam, you can just lay it back. Enjoy this smooth, crisp, easy drinking lager while reminiscing about past sends, or dreaming of new ones to come.
---
Bear Hug
Hazy IPA – 6.7% ABV
Like your coziest camp slippers at the end of a long day at the crag, you'll love this smooth and pillowy Hazy IPA. Mellow bittering, prominent aroma, and a dry hop with Mosaic and Simcoe make this a delicious choice for hop lovers of all kinds.
---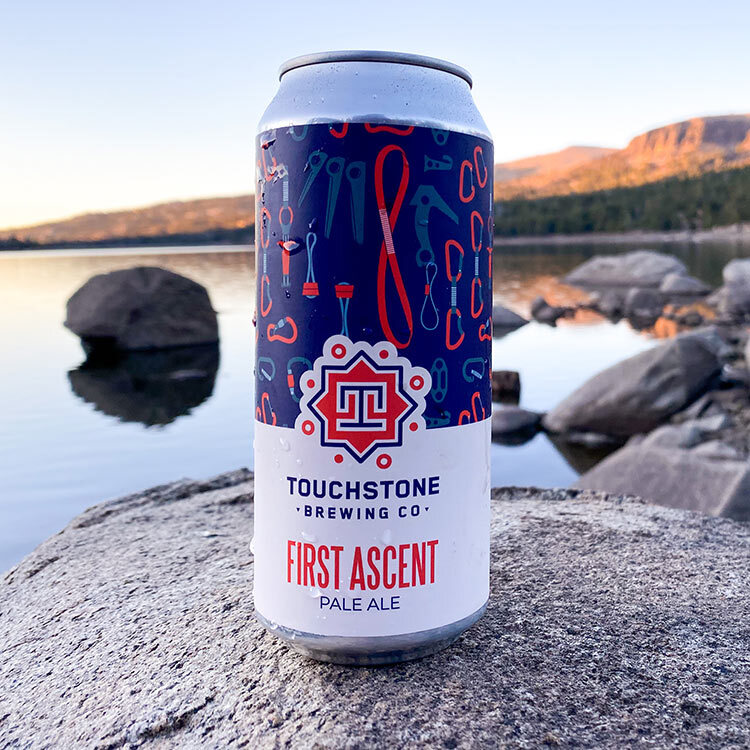 First Ascent
American Pale Ale – 5.3% ABV
This was the first beer we brewed at Touchstone Brewing, so we named it appropriately. This Pale Ale drinks like a mellow IPA, featuring West Coast IPA hops throughout the recipe. First Ascent was an immediate staff favorite, so it will be around full time!
---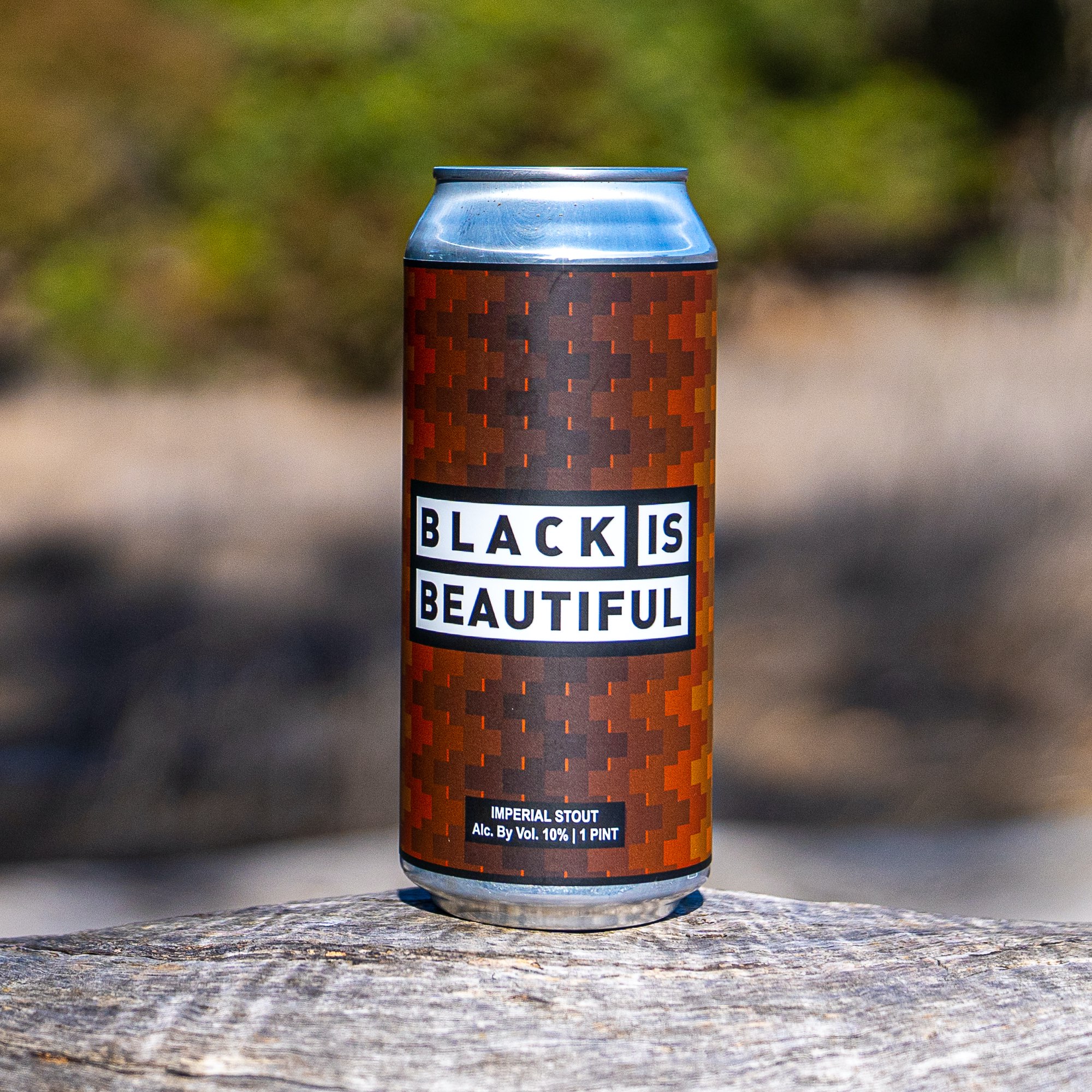 Black is Beautiful
Imperial Stout – 10% ABV
Black is Beautiful is an imperial stout developed by Weathered Souls Brewing of San Antonio, TX. This nationwide collaboration is part of an effort to raise awareness about the daily injustices endured by BIPOC Americans and to support real legal reform. All proceeds of this beer go to the ACLU – Sacramento County Chapter.
---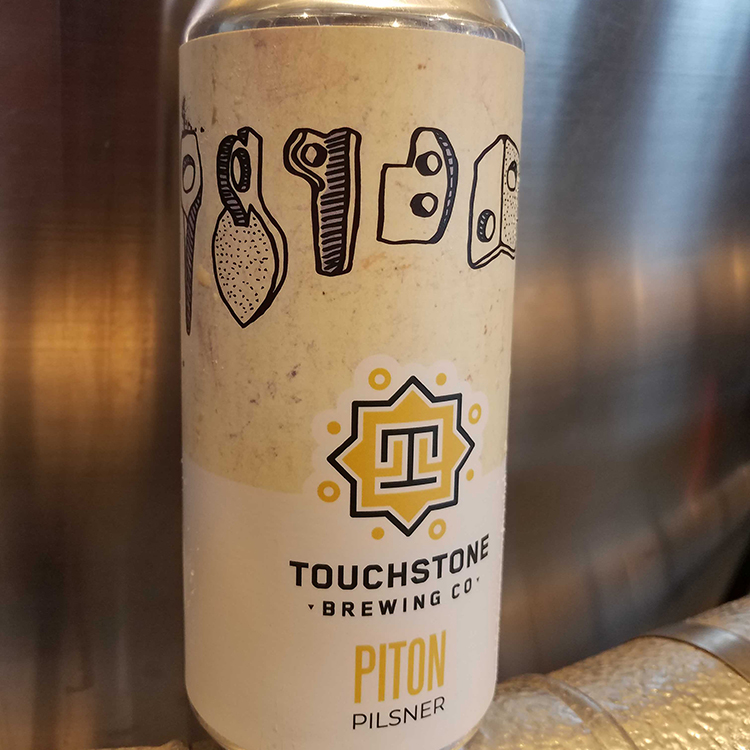 Piton Pilsner
American Lager – 4.5% ABV
Clean, crisp, and light bodied, this lager is a very nice alternative to the bitter and hoppy IPAs and Pale Ales that are so popular. This beer was brewed entirely with California grown and malted barley, keeping it as local as possible. Perfect for a post-send beer!
---
Archived Beers
We're a small batch brewery and are constantly rotating our offerings to bring you the freshness. Check out our archive to see what we've been up to (and what might make its way back into the rotation)!
Off Belay
Low Alcohol Pale Ale – 0.75% ABV
We were asked about non-alcoholic beers, so we decided to give one a go! A little bit above the 0.5% ABV threshold, Off Belay is still very low in alcohol at under 1%. We dry hopped it with Citra to keep it fresh and a little bit hoppy.
---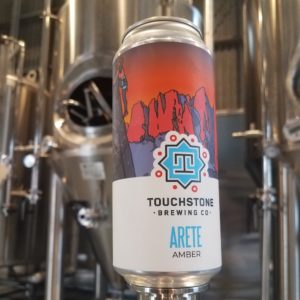 Arete
Amber Ale / Alt Bier – 4.8% ABV
Arete is brewed in the style of a classic Northern German Altbier with all North American malts, the bulk of them grown right here in California. A delicate balance between malty and bitter, this beer is very approachable no matter your style.
---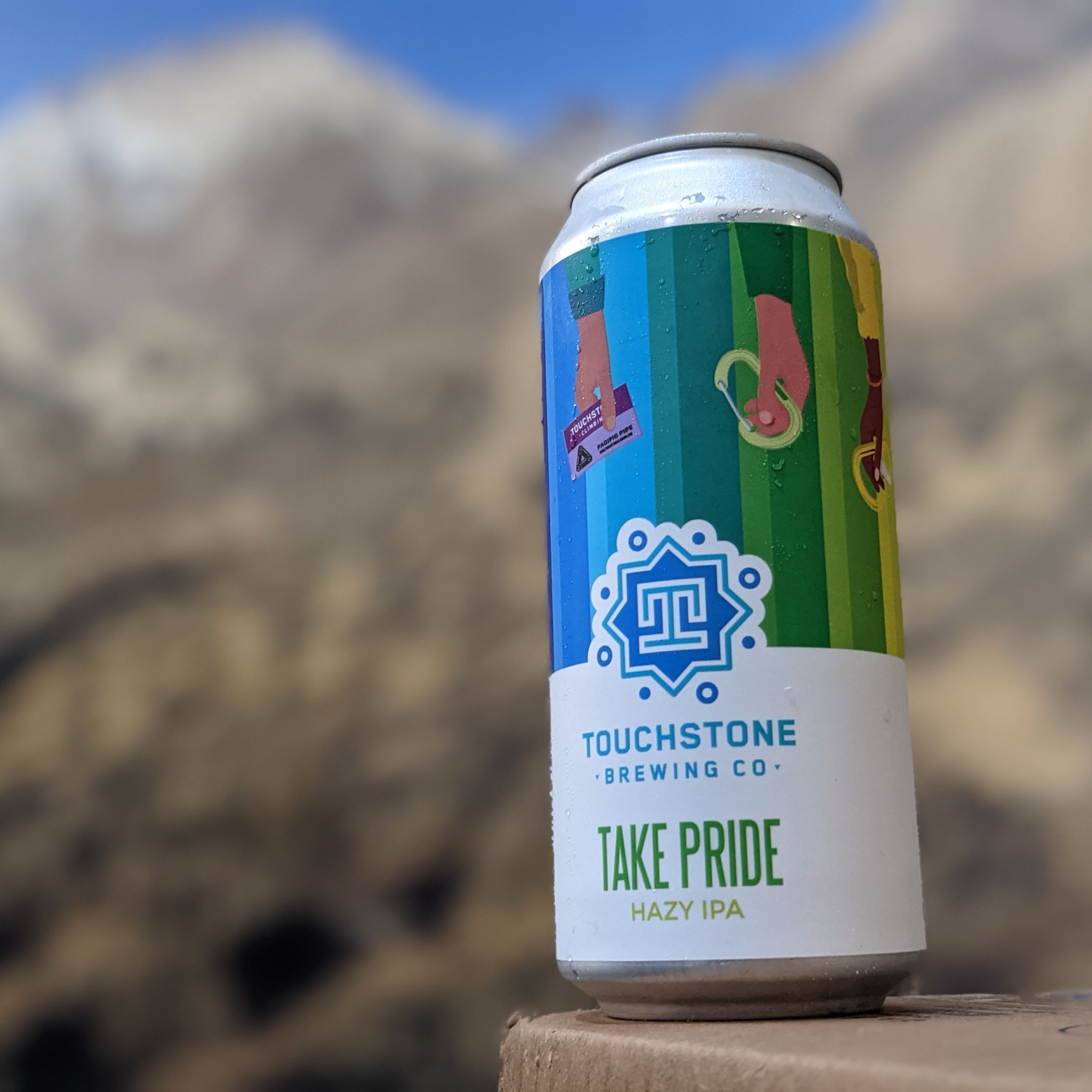 Take Pride
Hazy IPA – 6.8% ABV
This floral, pillowy, smooth Hazy IPA is packed with Sabro and Cashmere hops. Heavy notes of coconut and fresh flowers make this beer something special! Proceeds from this one go to the Sacramento LGBT Community Center. This will not last, pick some up today!
---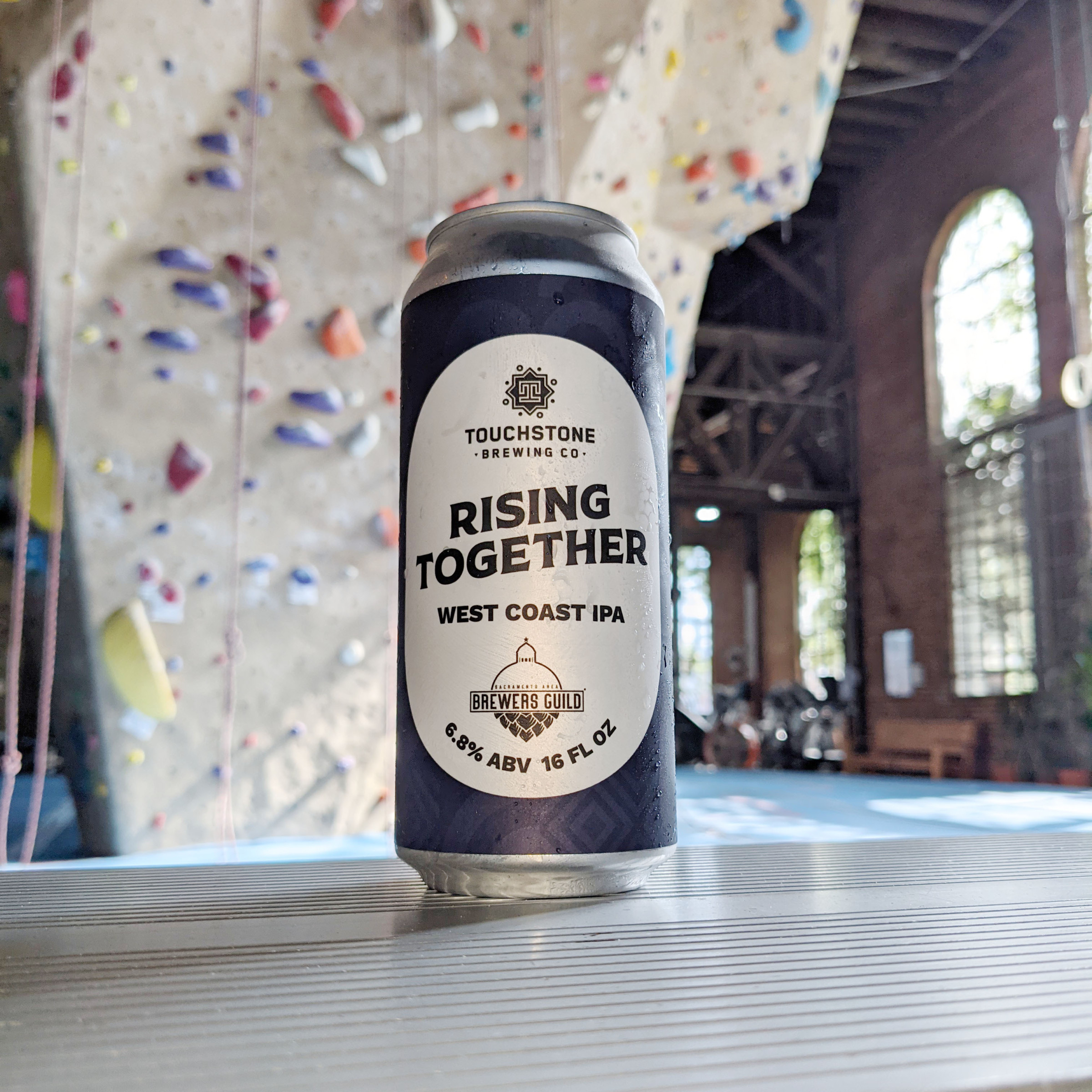 Rising Together
West Coast IPA – 6.8% ABV
Pine, Citrus, Dank, Delicious. Rising Together was brewed to celebrate our local breweries. Proceeds from this beer went to the Sacramento Area Brewers Guild, an organization dedicated to helping our local breweries and beer community.
---
Hawaiian Shirt Day
Tropical Hoppy Lager – 6.0% ABV
A collaboration brew with our friends Strike Brewing Company in San Jose, this beer was a tribute to our past in corporate America. Brewed and dry-hopped with Sabro and Citra hops, this clean lager is loaded with tropical notes without being overly bitter. This is a one-time beer brewed for California Craft Beer Week. When it's gone, it's gone!
---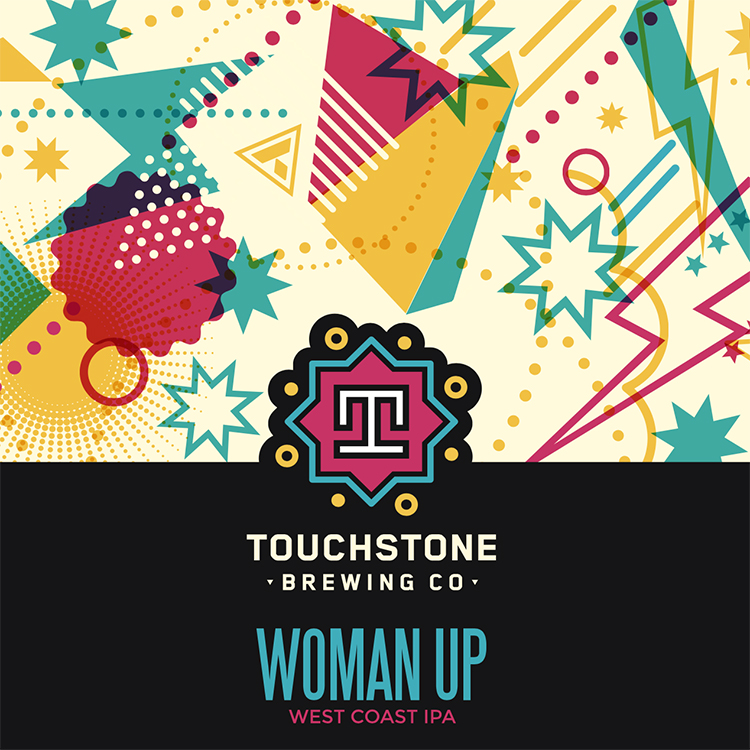 Woman Up
West Coast IPA – 6.5% ABV
Brewed on International Women's Day, in collaboration with The Pink Boots Society, this West Coast IPA is exploding with hops! Woman Up was brewed exclusively with a special hop blend, put together by the Pink Boots Society and Yakima Chief. Ladies from Touchstone and neighboring breweries came together to brew this deliciousness. Almost exclusively California grown malts, and all proceeds going to the Sacramento Chapter of the Pink Boots Society make this beer dedicated to being and serving local. We don't expect this one to last long, so get here soon!
---
Meet the Brewmaster
After years in the corporate world, Ryan Campagna decided he'd had enough and quit his job in 2011. He donated all of his suits and went off to follow his passion for beer. Fortuitously for this avid climber and mountaineer, The Studio in San Jose opened around the same time. He joined right away and quickly became a familiar face at the gym.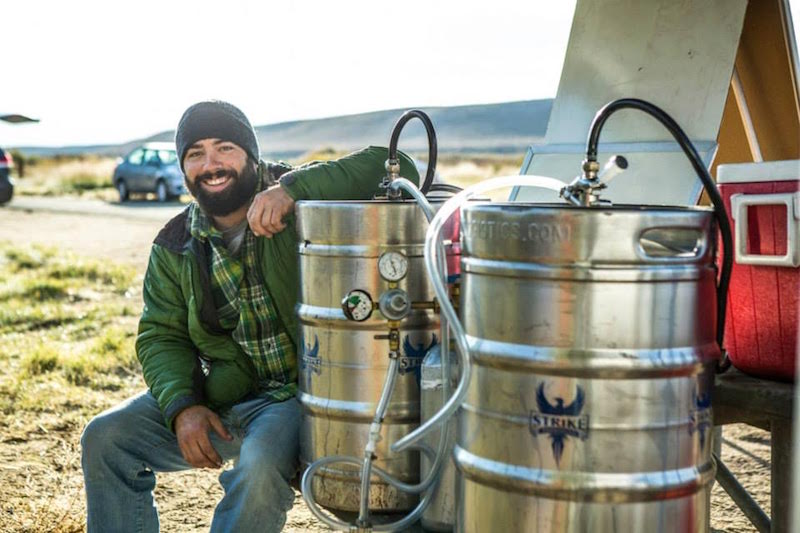 Later in 2012 he started working at Strike Brewing as their Production Manager. Soon Ryan was known not just at The Studio, but throughout the Touchstone Climbing community as he visited other locations to pour Strike beer for our TCS climbing competitions; and he didn't have to wait long for his two interests to collide.
"When I heard that Touchstone was considering a brewery at Sacramento Pipeworks, I immediately reached out," Ryan says. "The idea of running my own brewery, next to a climbing gym, one hour away from the mountains…it was almost too good to be true."
After introductions over beer and equal parts climbing talk and business talk, we decided to move forward with the Touchstone Brewing Company and Ryan. He moved from San Jose to Sacramento and began working on getting the brewery up and running.
"I'm excited to be working for a rad company with cool people, and to be a part of the exploding craft beer scene in Sacramento," Ryan says. "And to mix two of my passions—beer and climbing! Not at the same time of course…"
---
A Restaurant in the Works: Pintworks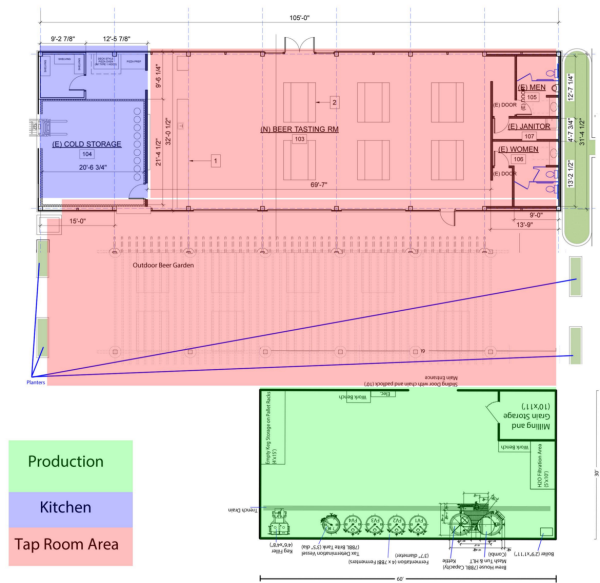 Touchstone Brewing Company will be an 1,800 sq. ft. brewery with a 2,600 sq. ft. tap room, along with a shaded outdoor beer garden perfect for warm Sacramento summers. The taproom itself, affectionately dubbed Pintworks, will offer beer, beverages and food.
"Along with non-alcoholic drinks. While we're very excited about being the first climbing gym in the USA to brew its own beer, we also want to build a place on-site for the community to come together over food and drinks."
We're still hard at work building our brewpub—give us a follow on Facebook and Instagram for updates!