Please check our COVID-19 Update Page to get the most current information before your visit.
---
Climbing Camps
Our fun and exciting camps run throughout the year and are a great way to get introduced to climbing. This program is for kids who have no climbing experience or are looking to return to climbing. Kids get a chance to meet for multiple sessions with our amazing instructors to build climbing skills, make friends, and have a blast!
Touchstone Climbing is dedicated to making youth climbing programs affordable for all families. Our Access to Climbing (ATC) Program offers discounts to families on Government Assistance. To learn more please visit our Commitment Programs page.
Curriculum
Kids will learn the fundamentals of climbing, including: belaying, knot craft, basic climbing technique, bouldering and much more. In addition, kids will try out many other activities such as rappelling, ascending a rope, slacklining, and other gym specific resources. Our experienced and supportive staff emphasize personal responsibility and encourage each camper to strive for and achieve goals daily.
After School Camps
After school camps are 8 weeks long and take place weekdays from 4pm – 6pm and run September through May. Use the link below to see the next available session.
COMING SOON
Summer Camps
Summer camps are 3 hours per day Monday – Friday and run June through August. Use the link below to see the next available session.
COMING SOON
---
Climbing Clubs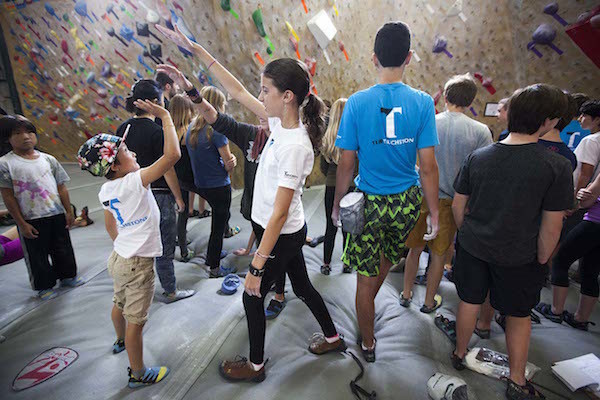 This is a program for climbers who are excited about improving their climbing skills through structured practice but who may not be interested in competitions. This is the next step for kids who have participated in a Climbing Camp.
The main focus of this club is to help climbers develop a love for the sport while addressing the basics of climbing technique, introducing group dynamics, and helping them become well-rounded climbers. This program provides a great opportunity to train with other young climbers in a relaxed, social environment while preparing them for a more rigorous training experience should they advance to Team Touchstone.
Climbers from this program may eventually be invited to join Team Touchstone once they have demonstrated the requisite technical proficiency and level of commitment.
Climbing Club members must have participated in a Climbing Camp session or have experience with belaying / some experience climbing.
| Program | Schedule | Initiation Fee | Monthly Dues | Age |
| --- | --- | --- | --- | --- |
| Kids Club | TBD | $50 | $150 | 8 – 11 |
| Youth Club | TBD | $50 | $150 | 12 – 18 |
We also offer a 2 session per week option with the second session taking place on the weekend for an additional cost (coming soon!).
If you're interested in becoming a Climbing Club member, please contact programs@touchstoneclimbing.com.
COMING SOON
---