We are committed to making climbing more accessible and will review, improve and change our programs as needed. Discounts and eligibility requirements are subject to change in the future.
---
Access to Climbing (ATC) Program
In our journey towards broader equity and inclusion in climbing, we're working to make our gyms more accessible to all through training, programming, and financial assistance. As part of that work, we'd like to introduce our Access to Climbing program. This program provides discounts for low-income individuals and families. Customers on these programs may show their California EBT or Medi-Cal/BIC cards with their photo ID at the front desk. Please note that some discounts may require further information*:
Day Pass
Come climb for the day or attend one of our fitness classes. No matter where you are in your fitness journey, there is something for you.
$10 Day Pass
Free Rental Gear
The ATC Day pass is applicable to Touchstone Climbing competitions.
Current California EBT/Medi-Cal and photo ID required.
---
Intro Classes
If you've never climbed before, you should take our Intro to Climbing or Bouldering Class. In this class, you will learn the basic skills needed to start climbing in our gyms. After class is over, you can use your newfound skills and climb until you can't climb anymore!
One Free Intro Class (w/ purchase of an ATC day pass)
Free Rental Gear
Current California EBT/Medi-Cal and photo ID required.
Intro to Climbing Class
In this one-hour class, you will learn the basic skills needed to start rope climbing: how to secure your harness, tie a figure 8 follow through knot, and complete your safety checks. You will also learn how to belay using an ATC belay device, catch a fall, and lower your climber back to the ground. This class is required for anyone who has not belayed before or who cannot pass our belay test without assistance. All class participants must be 14 or older.
Intro to Bouldering Class (offered at bouldering facilities only)
In this 30-45 minute class, you will learn basic safety, etiquette, and climbing techniques so you can start crushing alongside the gym rats.
---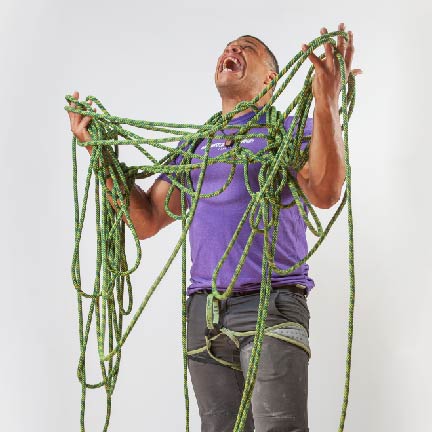 Climbing Clinics
Education and self-confidence in climbing can go a long way. For those stuck in a rut or looking to accomplish a specific goal in your climbing, look no further! Explore how our climbing clinics can help you become a better boulderer, sport climber, or get you ready for outdoor climbing.
25% off Clinics
Current California EBT/Medi-Cal and photo ID required.
---
Youth Climbing Camps*
After School and Summer Camps
Touchstone Climbing is dedicated to making youth climbing programs affordable for all families. Our ATC Program offers discounts to families on Government Assistance (Medi-Cal, CalWORKS Benefits, CalFresh/SNAP, Women, Infant & Children program (WIC). Eligible families will receive a 50% reduction in program costs. To apply, bring your recent Notice of Action letter to the front desk of any Touchstone location to sign up.
50% off Youth Camps

Current Notice of Action letter and photo ID required.
Climbing Club and Team Touchstone
Touchstone Climbing also offers membership support for those who are experiencing significant financial instability and who otherwise would not have access to the gym. This support is extended to our Climbing Club and Team Touchstone memberships. Please contact Member Services or your Gym Manager for more information.
---
Community Youth Programs
One of our commitments and goals is to inspire and share rock climbing with local youth. We want our gyms to be places where everyone in our communities can come together and climb, connect, and work out. Touchstone offers discounts for schools, local organizations, and member initiatives to ensure that our gyms represent and serve their neighborhoods. If you are interested in partnering with Touchstone, please reach out to us at [email protected]
Court Appointed Special Advocate (CASA)
Do you and your youth want to try a fun and challenging activity? CASA in the Bay Area and in Los Angeles have partnered with Touchstone Climbing and Fitness. CASAs with youth ages 14 and older can take a free Intro to Climbing Class or CASAs with youth ages 6 and older can take a free Intro to Bouldering Class at any of the Touchstone gyms located in LA or in the Bay Area. Contact your Case Supervisor or your Program Assistant for more details!
Are you a part of CASA outside of the Bay and LA areas? Contact [email protected] to learn more.