Climbing is an inherently risky sport and safety is our main priority so please take the time to read this page before visiting the gym. It is important to us that you come to the gym knowing everything beforehand so that we can give you the best experience possible.
---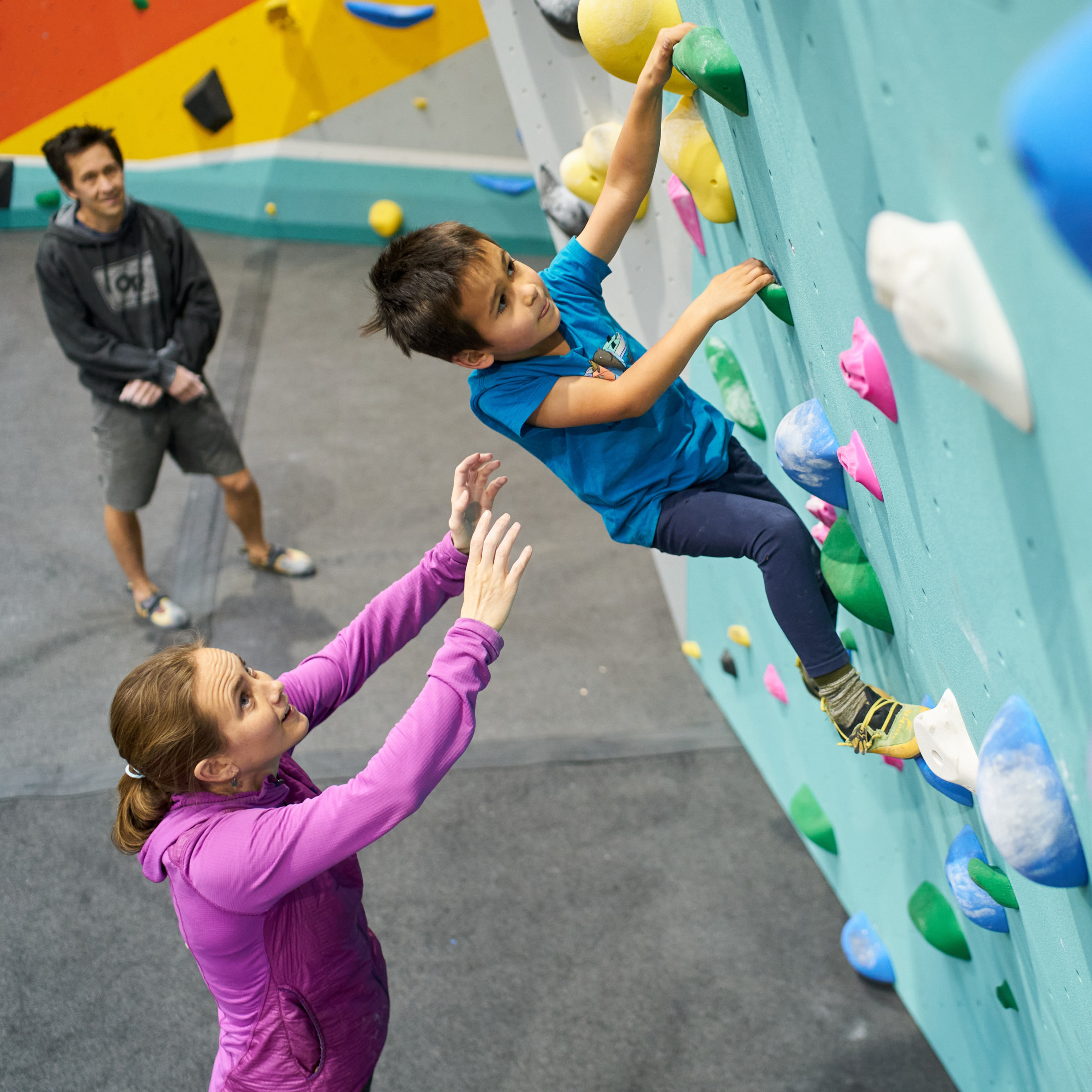 What You Need to Know Before Arriving at the Gym
We do not provide staff on-demand to supervise kids, here is what you can do at the gym:
My kids want to come boulder, what do I do next?
You will need to actively supervise your children. Children 13 and under who want to boulder must be closely supervised by an adult (be a helicopter parent).
You can purchase a day pass and gear when you arrive.
My kids want to try top roping (the tall walls), what do I do next?
We do not offer top roping at LA Boulders. You will need to visit Cliffs of Id.
---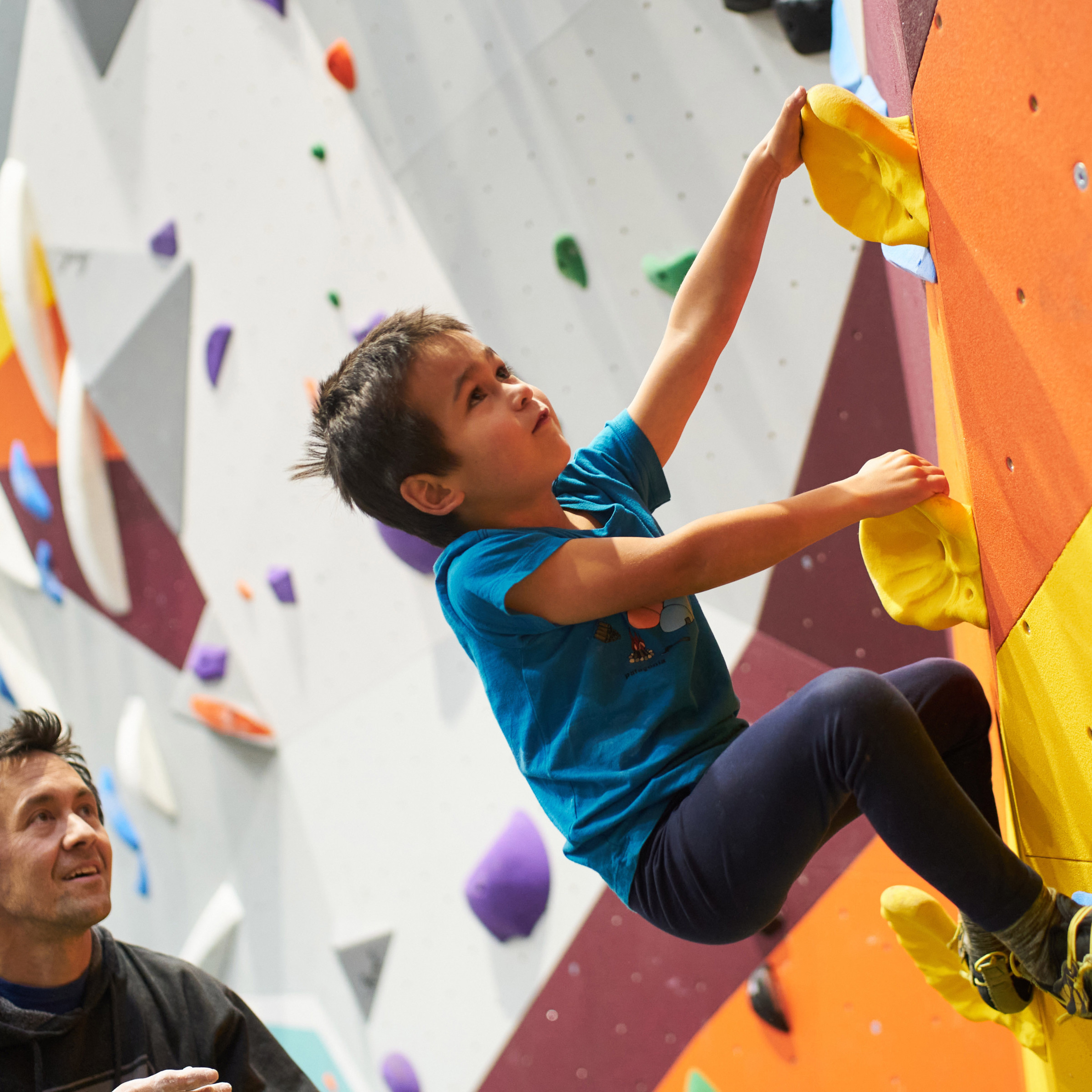 Rules, Etiquette, and Community Love
We love kids and are excited to welcome them to the world of climbing! However, our gyms are not a playground. Like adults, kids are expected to share the space safely with other climbers and must behave accordingly.
Be a "Helicopter Parent"
It's not enough to keep an eye on your child from afar or while you're trying to get in your own climbing session or working from the lounge. Children are often not as aware as you are of what's going on around them, so actively participate in their safety by making sure they're not walking or climbing under anyone. Keeping them within arm's reach will allow you to step in quickly if needed, and will make other climbers feel safer knowing that you're aware and involved.
Set a Good Example
Nobody is more instrumental in instilling safe practices in your child than you are! Demonstrate safe and courteous behavior and they will follow in your footsteps.
Check out our YouTube channel for tips!
Kid Rules
There must always be a 1:1 non-climbing adult-to-child ratio for kids under 6 and a 1:3 ratio for kids 6 to 13. All kids 13 and under must be directly supervised. Direct supervision means keeping children within arm's reach at all times.
Bouldering involves risk. All falls are ground falls. All boulderers must be willing to take personal responsibility for their own safety. Children 13 and under who want to boulder must be closely supervised by an adult (be that helicopter parent).

Kids who are active members of our Climbing Club or Team Touchstone may boulder without supervision with approval from their Coach.

Children 13 and under are not permitted in the weight room or cardio area unless directly supervised by an adult. Some equipment is totally off limits to kids and is labeled as such.
Be aware of your surroundings when you have infants and small children in climbing areas. You are responsible for keeping them out of harm's way and out of the way of other gym users.
Gym Etiquette
No running.
When others are waiting to climb, please step away from the wall and take turns.
No barefoot climbing.
Never walk directly under climbers on any wall.
When moving through the gym, keep your head on a swivel and be mindful of your surroundings. Make sure to look above you when walking.
Keep personal items off the mats and out of any fall zones.
Do not touch anyone else's gear and do not allow your children to do so.
These rules are not exhaustive. If we need to remind you or your child/ren of the rules multiple times, or if we receive more than two complaints about their behavior, we will ask that you leave the gym for the day.
---
Common Questions:
My child is interested in climbing but I'm not or, I am not able to be at the gym with them. Do you have staff available to supervise my child? If not, what are my options?
We do not have staff available to supervise general day use of the gym. We do, however, offer several Youth Programs for kids who are looking to climb more frequently such as private lessons, climbing camps, and clubs.
We have family in town. Can we bring in a small group of children if it's not for a birthday party?
You're welcome to bring in a small group of children, but we require a 1:3 ratio of non-climbing adults to children in the bouldering areas.
Do you offer birthday parties for children?
We no longer host birthday parties however you may still bring a small group of kids into the gyms to celebrate if you are self-sufficient in climbing. If you are not an experienced group please read below to find out what is necessary in order to become one.
Everyone needs a waiver: spectators and participants.
All self-sufficient groups must reserve their spot at least one week in advance by emailing [email protected]
We do not allow self-sufficient groups with kids under the age of 14 to exceed 15 participants.
You must meet the following criteria in order to hold a self-sufficient event in our facility: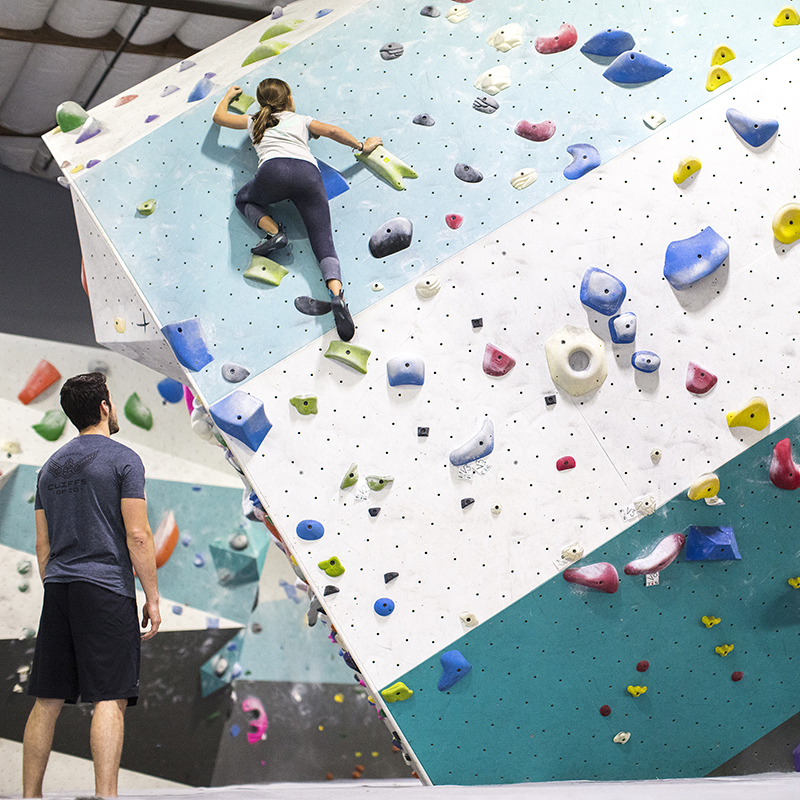 Due to the high volume of adults taking ground falls in the bouldering area, it's especially important that adult chaperones keep all children within arm's reach at all times.
For every 3 climbers, you must provide at least one experienced boulderer. An experienced boulderer has taken our Intro to Bouldering Class or has been bouldering for more than 6 months.
It is important that you request a safety/falling lesson when you arrive as well as review the kids' safety brochure that we provide at the front desk.
If you have any questions about whether you meet these criteria, please contact the gym and speak with one of our staff. It is possible that you may not be permitted to hold your event at our facility if you do not fulfill the requirements above.