WOMAN UP EVENTS

 | 2019 | 2018 

| 

2017 |
---
WE ARE HIRING ROUTESETTERS FOR WOMAN UP 2020!
Woman Up Setters work together to set all problems for the festival's Open and Citizens Competitions. We are looking for setters of all experience levels. Our goal is to create a rich and supportive environment where everyone thrives together.
You'll be expected to arrive in time for the welcome dinner meet-and-greet at 4pm on Monday, September 7th and work Tuesday, September 8th through Saturday, September 12th. You will also be teaching a setting clinic to Touchstone staff, so all applicants should be prepared to help womxn who are totally new to routesetting have a positive and informative first taste.
Woman Up is not just another comp setting gig—it is an opportunity for routesetters to share knowledge, ideas, and experiences. Applicants should be excited to mentor and be mentored. Applications close on March 31st, so apply now!
---
ABOUT WOMAN UP CLIMBING FESTIVAL
The Woman Up Climbing festival is a celebration of the incredible womxn present in every aspect of rock climbing—from routesetters to weekend warriors to professional athletes. With this multi-day event, we hope to inspire womxn to join our industry, achieve their personal goals, and find their community.
The festival kicks off with a keynote presentation and all-gender party to start the weekend. After that is our all-womxn's comp, featuring routes by premier womxn routesetters and designed for both seasoned comp climbers and anyone who's ever been intimidated by climbing competitions.
For all the womxn who've ever felt like they've had to justify themselves at the crag or the gym, this festival is a chance for us to remind each other that we CAN reach that hold, we CAN make that dyno, we CAN lead that pitch—and we can lead the industry, too.
Meet the women behind Woman Up:
---
KEYNOTE
We kick off the festival with the Woman Up Keynote Speaker, a guest of honor who comes to share their story with us. Previous keynote speakers include Lynn Hill and Beth Rodden.
---
COMPETITION
Our all-womxn's competition is always set exclusively by womxn routesetters, and is the only event of its kind. Whether you're an actual pro or you've never competed before, you'll find high-quality problems and tons of fun at every grade!
The Citizens Comp is open to all levels and is broken down into age categories (16 and under, 17-35, 36-49, 50+). This is a chance for everyone to try their hardest in a supportive and inclusive environment.
The Open Comp is for advanced climbers who are ready to throw down for a chance at Finals and a hefty cash purse! Open competitors must first climb in our Redpoint Qualifier round. The top six competitors will advance to Onsight Finals. Check out our Comp FAQ for more details.
---
VENDOR VILLAGE
You can be sure that all of your favorite brands will be at Vendor Village. Cruise around and check out gear, apparel, and more as well as snag some tasty food and beverages from local food trucks. Whether you're taking a break from the rock climbing action or just came to spectate, Vendor Village will have something fun for you!
---
CLINICS AND WORKSHOPS
Spend time acquiring new skills and meeting amazing womxn in climbing. Every year we offer clinics and workshops on a variety of topics hosted by leaders in the climbing industry. Clinics have included an all-day routesetting clinic led by the same crew who set all the problems for the Woman Up comp, womxn-only Lead 1 and Lead 2, plus workshops with pros like Beth Rodden, Lynn Hill, Alex Johnson, Nikki Smith, Lisa Rands, and so much more!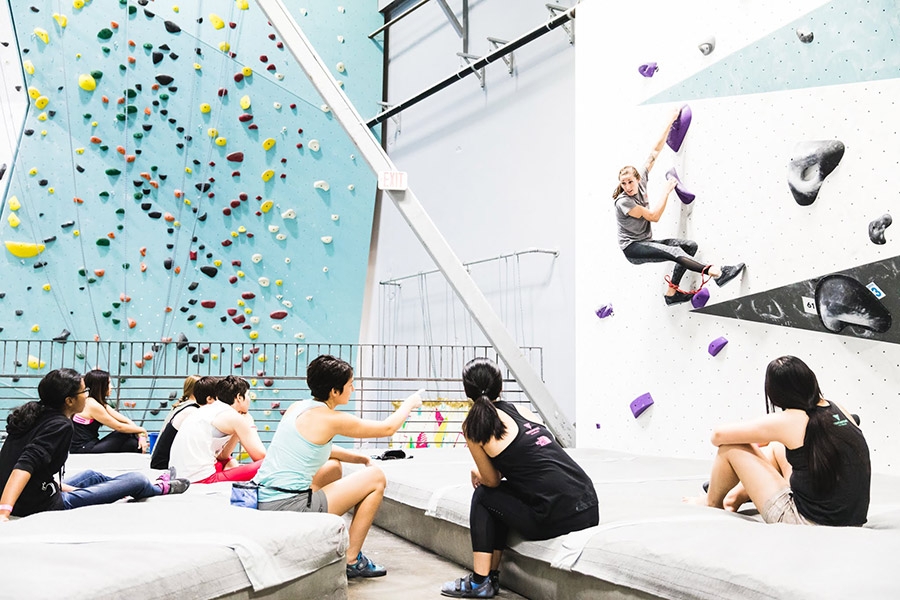 ---
SPONSORS
Each year we partner with sponsors who look to elevate womxn in the outdoors and the climbing industry to help us make Woman Up the best event it can be. If you're interested in becoming a Woman Up sponsor, drop us a line!
---
LOOKING FOR INFO ABOUT PREVIOUS WOMAN UP FESTIVALS?
Click the year you're interested in the header or footer of this page.
To everyone who attended the 2019 Woman Up Climbing Festival, THANK YOU! Seeing you all climbing, supporting one another, and smiling from ear-to-ear filled our hearts with so much joy. We hope you all had as much fun at the festival as we had organizing it.
---
WOMAN UP EVENTS

 | 2019 | 2018 

| 

2017 |