BATTLE OF THE BAY EVENTS

|

 2018 

|

 2017 

|
---
BATTLE OF THE BAY BOULDERING COMPETITION
Battle of the Bay at Dogpatch Boulders in San Francisco is the largest bouldering competition in the country!
Test your mettle in our all-levels Citizens Category, where we reset the whole gym with brand new plastic problems for everyone to pull on. When you're done climbing hard you can party harder with free pizza, beer, and prizes.
Heavy hitters can sign up for our Open Category for a chance at the crown and a $10,000 cash purse! This is a USA Climbing National Cup Series event. Open competitors must register through the USA Climbing website and place in one of the top eight slots in the Redpoint Round to move on to the Onsight Finals Round.
There is always something for everyone at Battle of the Bay, so don't miss the event of the year!
Mark your calendars—Battle of the Bay is coming back to Dogpatch Boulders on November 1st and November 2nd!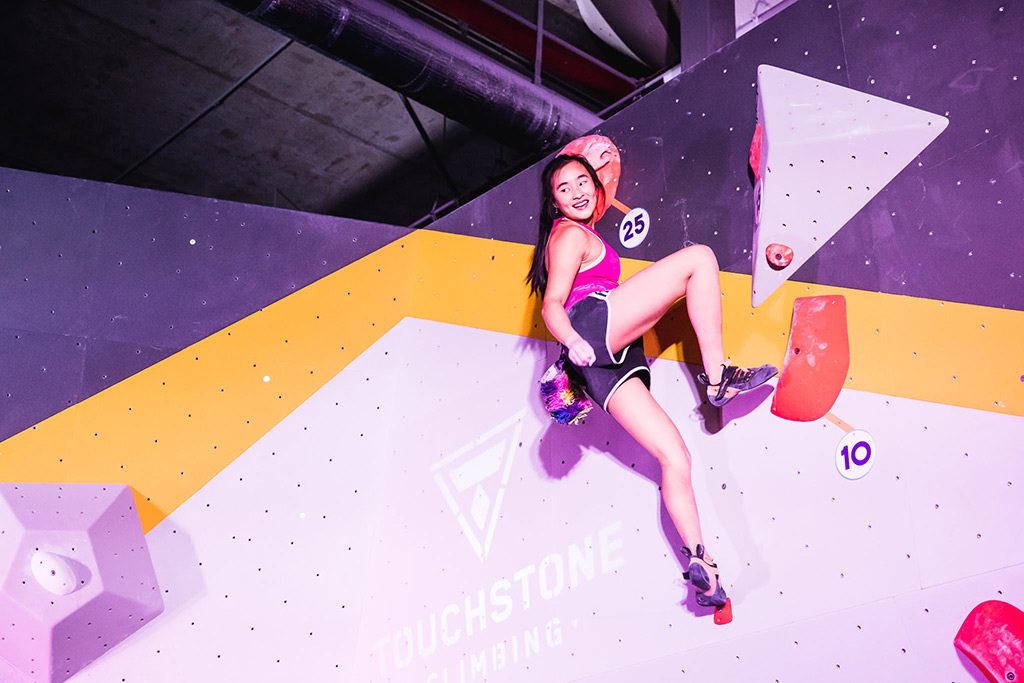 ---
PRICING
Citizens Category: Free for members, $25 for non-members
Open Category: $100 before October 29th, $150 after October 29th. Register through USA Climbing.
Spectators: Free for members, $10 for non-members
---
FRIDAY, November 1st
Redpoint Qualifiers: 2pm–5pm and 6pm–9pm
Open Competitors, this day is for you. All Open competitors must climb in one of the Qualifying Rounds. This is a USA Climbing National Cup Series event. Open competitors must register through the USA Climbing website!
Register for the Open Category
Qualifiers consist of 10 problems for each gender category. Scoring will be a modified redpoint round based on tops and attempts to high point—therefore, a perfect score would be flashing every problem. There will be judges keeping score so you can concentrate on just trying your hardest!
The top eight competitors in each gender category will advance to the Finals Round.
---
SATURDAY, November 2nd
The battle begins! Sign up for our Citizens comp and challenge yourself on all-new, mega fun comp problems. Or just come and enjoy the beer, pizza, prizes, and games before the Open Finals round in the evening.
Registration: 11am–12pm
Citizens Climbing Round: 12pm–5pm
Happy Hour: 5pm–6pm
Open Finals: 6pm–late
No registration is necessary for the Citizens Comp, but please get your competition code and print a paper waiver before arriving. Spectators must also bring their waivers. Then climb till you can't climb anymore! The Citizens Comp will be self-scored and should feel familiar to you if you've ever been to one of our TCS comps.
The final throwdown will have the top Open competitors from each gender category climbing for the crown—and a cash purse! This round will be an onsight format with four problems for each gender. Spectators, be sure to save some energy to cheer the finalists up the wall!
---
USAC Comp Info
How do I register for a National Cup competition?
Registration links for the Open category at National Cups will be processed on the individual National Cup pages. Please click on the competition name and follow the direct link to register.
Each competition also has a "Citizens" competition for recreational, intermediate and advanced level adult competitors, and may also have a youth event. Registration for all participants, other than Open level competitors, will be handled directly by the host gym.
How much does it cost to register?
The cost to register as an Open Competitor is $100.00 at each National Cup, if registering during the regular registration period, or $150.00 if during the late registration period. See below.
When does the registration period close?
There will be a "regular registration period" (during which the registration fee will be $100.00) and this shall be up until Wednesday, 11:59pm MTN, the week of the competition. After this deadline competitors may still register during a "late registration period," during which there will be a $50.00 late fee and thus the registration will cost $150.00. Competitors can register up until the start of the Qualification round, though we greatly appreciate competitors registering early as this will help the host facilities in planning.
Do I need a USA Climbing Membership?
Competitors may purchase an Intro Membership to participate in a National Cup Series competition or a full Competitor Membership. However, Competitors will only receive points towards the National Ranking if they have the Competitor Membership and competitors who also plan to compete at the Bouldering Open National Championship must purchase a full USA Climbing Competitor Membership ($105.00) in order to compete at that event, and thus if planning for this it is most cost-effective to get a full USA Climbing Competitor Membership from the start.
---
BATTLE OF THE BAY EVENTS

|

 2018 

|

 2017 

|