BATTLE OF THE BAY EVENTS

|

 2019 

|

2018 

|

 2017 

|
Battle of the Bay 2023 is November 3 + 4 at Dogpatch Boulders

The event is free for members and $30 for non-members unless you're competing in the open category.
---
BATTLE OF THE BAY BOULDERING COMPETITION
Welcome to the largest bouldering competition (and celebration!) in the country: Touchstone's Battle of the Bay!
Returning from our pandemic-driven hiatus, this year's Battle of the Bay includes two climbing categories:
Citizens Category

Our all-level competition includes a newly set gym with unique comp-style problems. After climbing hard, party harder with free food, beer, and prizes.

Open Category

Our heavy-hitter competition offers a chance at the crown and a

$15,000 cash purse

! Open competitors must place in one of the top six slots in the Redpoint Round to move on to the Onsight Finals Round.
Battle of the Bay is more than a climbing comp—it's our biggest celebration of the year. Mark your calendar now (Nov. 3 + 4) so you don't miss out.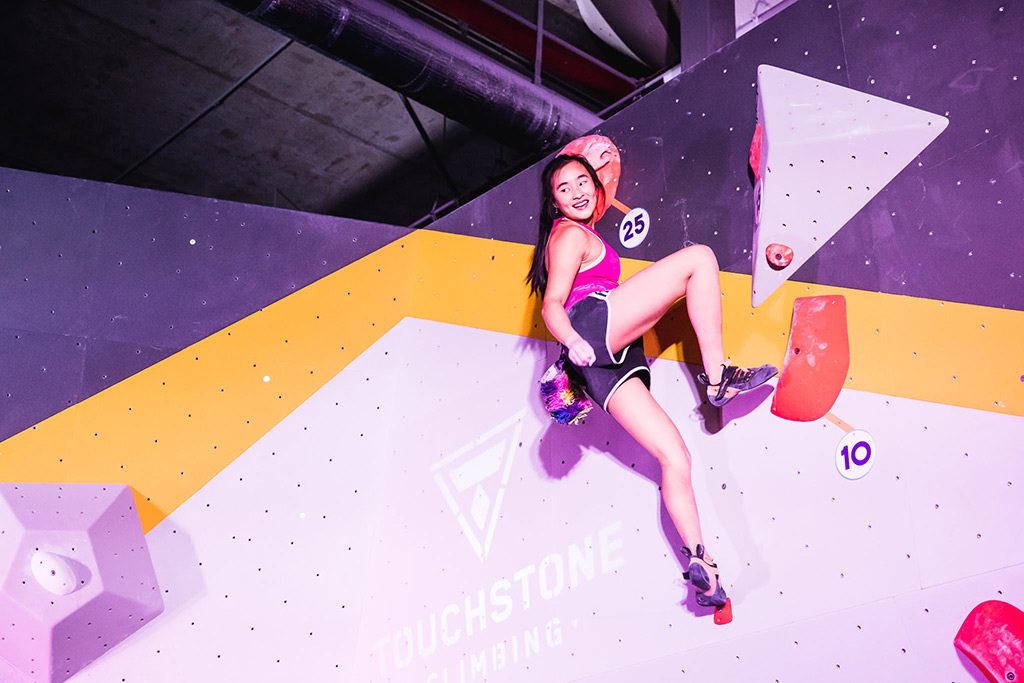 ---
CITIZENS CATEGORY
Sign up for our all-level Citizens comp and challenge yourself on brand-new, mega-fun comp problems. Or just come and enjoy the beer, pizza, prizes, and games before the Open Finals round in the evening.
No registration is necessary for the Citizens Comp. But please get your competition code and print a paper waiver before arriving. (Spectators must also sign waivers.) Then climb till you can't climb anymore! The Citizens Comp is self-scored and should feel familiar to you if you've ever been to one of our TCS comps.
---
OPEN CATEGORY
Open competitors, this day is for you. All open competitors must climb in the Qualifying Round. You can register here, beginning October 1st.
Early Registration Pricing

(October 1st – 22nd)

$45 for Members
$75 for Non-Members
Late Registration Pricing

(October 23rd – November 3rd)

$65 for Members
$95 for Non-Members
Qualifiers scoring for each gender category (women, men, and non-binary) is a modified redpoint round based on tops and attempts to high point—therefore, a perfect score would be flashing every problem. There will be judges keeping score so you can concentrate on just trying your hardest!
The top six competitors in each gender category will advance to the Finals Round.

---
HAPPY HOUR
Mix, mingle, and enjoy free drinks and snacks while checking out vendor booths from your favorite outdoor brands. This is your chance to swap beta and reconvene with friends while snagging a front-row seat for the upcoming show.
---
OPEN FINALS
The final throwdown has the top six Open competitors from each gender category climbing for the crown—and a cash purse! This round is an onsight format with four problems for each gender. Spectators, be sure to save some energy to cheer the finalists up the wall!

---
SPONSORS
Every year, Battle of the Bay pushes the scale and the scope of indoor competitive bouldering. We don't just want each Battle of the Bay to be a better comp than last year's, we want it to be the best comp anyone has ever seen. We partner with industry leaders who share that ambition to help us get there. If you'd like to be a Battle of the Bay sponsor, drop us a line!

---
LOOKING FOR INFO ABOUT PREVIOUS BATTLE OF THE BAY COMPS?
Click the year you're interested in the header or footer of this page for comp results, highlight reels, photo albums and livestream footage.
---
BATTLE OF THE BAY EVENTS

|

 2019 

|

2018 

|

 2017 

|