---
THANK YOU!
To everyone who attended Woman Up Climbing Festival 2018, THANK YOU! Seeing you all climbing, supporting one another, and smiling from ear-to-ear filled our hearts with so much joy. We hope you all had as much fun at the festival as we had organizing it.
Watch the highlights here:
Check out photos from the event on Facebook:
Woman Up 2018 Part 1 Woman Up 2018 Part 2 Woman Up 2018 Part 3 Woman Up 2018 Photo Booth
---
ABOUT WOMAN UP 2018
2018 was Touchstone + The North Face's second annual Woman Up Climbing Festival and was held at Cliffs of Id on September 22nd + 23rd. This year, we focused on how we maintain the momentum of the movements we started together and sustain the relationships we've built. Woman Up proceeds in 2018 were donated to Brown Girls Climb.
---
WHAT THE WOMEN HAVE TO SAY
---
COMPETITION
Every Woman Up comp is special, but the Open for this one was particularly amazing. We took the top six competitors from Open Qualifiers to go head-to-head in the onsight Finals for a $5,000 cash purse. We were thrilled to see the first intergenerational roster of crushers any bouldering comp has ever seen! From Lisa Rands, the first woman to climb V10 over a decade ago, to pro climbers Alex Johnson and Delaney Miller, to local crusher Kelly Birch, to youth climbing phenoms Brooke Raboutou and Cloe Coscoy, we were treated to an incredible Finals round that showcased the legacy of women bouldering.
| Open Finals Ranking | Name |
| --- | --- |
| 1st | Alex Johnson |
| 2nd | Kelly Birch |
| 3rd | Cloe Coscoy |
| 4th | Brooke Raboutou |
| 5th | Delaney Miller |
| 6th | Lisa Rands |
The Citizens Comp was the perfect place for women to experience competition climbing in a friendly and inclusive setting. The problems were set entirely by our all-women routesetting crew and ranged from V0 to V11. Congratulations those who placed in the Citizen's Competition, and thank you for coming out to the event!
You can find the scores for the Citizens Competition here, and the Open Competition here.
---
THE ROUTESETTERS
In 2018, we flew in the top women routesetters from around the world to set Woman Up's plastic classics. Woman Up is the only climbing festival in the world set entirely for women, by women. Jackie Hueftle chiefed the event for the second year in a row, bringing over two decades of experience to the crew.
---
CLINICS AND WORKSHOPS
We had some truly incredible clinics and workshops lined up on September 23rd, including an all-day routesetting clinic led by the same crew who set all the problems for the Woman Up comp, women-only Lead 1 and Lead 2, and workshops with pros like Alex Johnson, Emily Harrington, Nikki Smith, Katie Lambert, Lisa Rands, Dawn Glanc!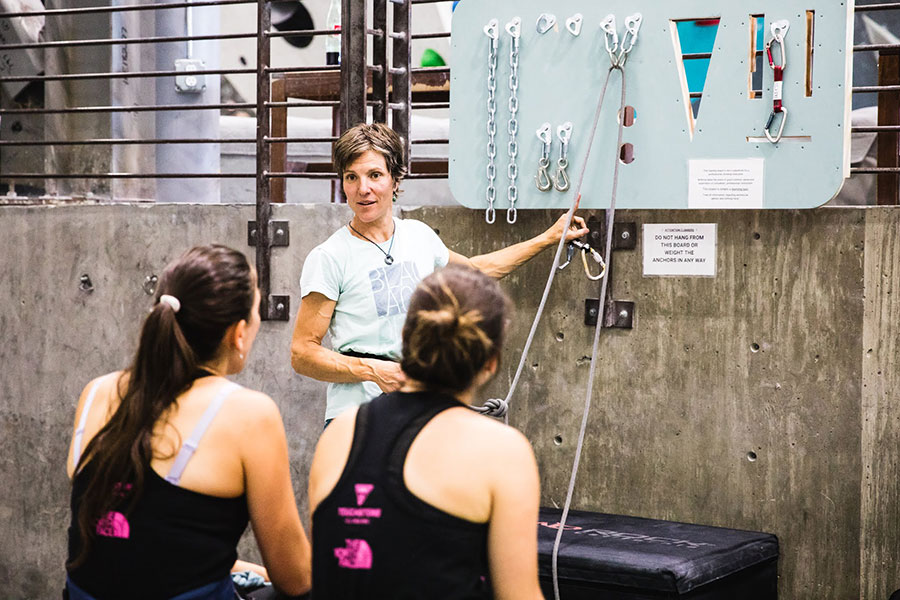 ---
PANEL
The theme for 2018's panel was Taking Care of Each Other. This was the lens through which we examined a variety of topics. How do we maintain relationships and traction from movements we started last year? How do we honor and celebrate each other across different experiences, identities, & perspectives? We were honored to have Alex Johnson, Beth Rodden, Emily Harrington, Jackie Hueftle, Maricela Rosales, Shelley Sella, & Summer Winston in conversation with us.
---
KEYNOTE
Closing out Woman Up 2018 was our Keynote Speaker, Beth Rodden! Beth is one of the world's most accomplished rock climbers, with a number of 5.14's under her belt in sport, trad, and big wall style. Her Yosemite route Meltdown (5.14c) is one of the hardest trad climbs in the world and was yet to see a second ascent as of September 2018. She's currently focused on her hardest pursuit yet: motherhood. We were thrilled to have her with us in 2018 to share her story and talk about her relationship to climbing.
---
SPONSORS
---