BATTLE OF THE BAY EVENTS

| PRESENT | 2023 |2019 | 2018 | 2017 |
---
ABOUT BATTLE OF THE BAY 2023
Battle of the Bay 2023 was on November 4th + 5th—and it was phenomenal! Our first Battle of the Bay back after our pandemic-driven hiatus was also our first time having a Non-binary Category. It was incredible to see this category fill up, to witness and interact with everyone enjoying the event, and to watch competitors across all categories bring their A-game.
THANK YOU to everyone who came out. For those of you who missed it (or just want to relive it), check out the recorded Finals live stream:
---
OPEN QUALIFIERS
All Open competitors had to climb in the Qualifiers Round on November 4th for a chance at a top-six slot and a place in Open Finals on November 5th. We had 99 competitors vying for Finals, with Qualifiers being a great show itself.
Competitors had access to over 80 problems and, similar to our Touchstone Climbing Series scoring, were able to choose their best 5. Thank you to all the competitors for throwing down, and to all of the volunteer judges for making this round possible!
Final rankings can be found here soon.
---
CITIZENS COMP
On November 4th, we also opened the gym up to our All-Levels Citizens Comp, where climbers of all abilities got to test their mettle on brand new sets courtesy of our amazing Touchstone Routesetting Team.
Congratulations to those who placed in our Citizens Comp, and thank you to everyone who competed. Here are all the final Citizens [RESULTS].
---
OPEN FINALS
The final throwdown had the top 6 Open competitors from each category—Women, Men, and Non-binary— climbing for the chance to win the crown and a portion of the cash pot. The Open Finals Round on November 5th began with a 2-minute preview of the problems. Then the competitors were led to the back before each coming out to attempt each problem in turn.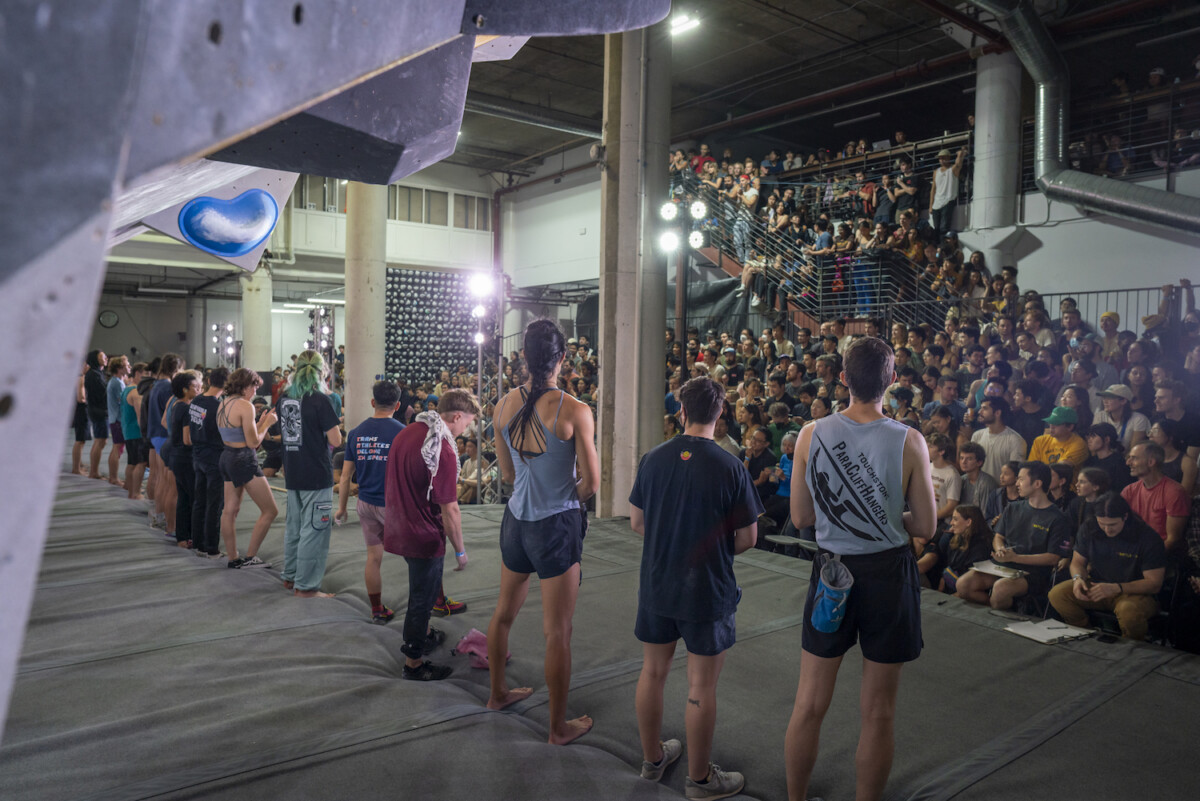 Olympic hopefuls and hometown heroes, the competitors did not dissapoint. The routesetters separated the field beautifully with problems that ranged from technical slab head-scratchers to dynos ending in single-hand crimps. The crowd showed up, too—filling the gym with the boisterous energy of their support.


Non-Binary Finals Ranking
Name
1st
Diego Wong
2nd
Flannery Shay-Nemirow
3rd
Cat Runner
4th
Winter Ku
5th
Grace Crowley
6th
Riley Darby-McClure


Women's Finals Ranking
Name
1st
Analise Van Hoang
2nd
Kylie Cullen
3rd
KM Suleman
4th
Nekaia Sanders
5th
Cloe Coscoy
6th
Mira Capicchioni


Men's Finals Ranking
Name
1st
Brenden Beauchamp
2nd
Colin Wills
3rd
Nikolas Karolides
4th
James Cook
5th
Carlo Traversi
6th
Christopher Llewellyn
A big CONGRATULATIONS to our 18 finalists. Here are the final Open [RESULTS]. We hope to see you all again at Battle of the Bay 2024!
For more ways to relive the magic, check out all of our photos from the event:
---
BATTLE OF THE BAY EVENTS

| PRESENT | 2023 |2019 | 2018 | 2017 |