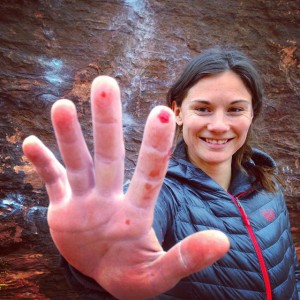 We at Touchstone Climbing want to provide our readership with insightful, relevant writing from our members and the climbing community. We hope that this article inspires thoughtful conversation. Please note that the views expressed here do not necessarily reflect the views held by Touchstone Climbing.
By Georgie Abel
"You're pretty strong for a girl," he says to me. I clench my jaw. I'm sitting around a campfire in the Buttermilks with three of my closest male friends. The apparent attempt at a compliment comes from a guy we met earlier that day. The space between my shoulder blades aches from multiple burns on my project and I'm mentally exhausted. I tilt my beer back, trying to muster the energy to come back with some witty response, even though I just want to pretend I'm one of those girls who isn't bothered by a comment like that. My eye catches a glance from one of my friends. His brow furrows and his mouth looks tight, he does not approve of what the dude said. I know in that moment that I shouldn't either.
"That's a really weird thing to say," I say to the guy. "That compliment was spiked with something that feels pretty demeaning." My friend's face softens and he nods, the other guy doesn't know what to say. He doesn't climb with us the next day.
Being a climber and a writer naturally makes me a curious person. Being a woman in a sport that is ruled (for the most part) by men makes for a lot of gender-related experiences, all of which I find to be really interesting. I knew that other female climbers were interested in this too, and that they had stories of their own about being a woman in the bro'ed out world of rock climbing. I wanted to hear their stories. So, I asked.
I asked almost 100 female climbers of varying ages and ability levels to tell me a story about a notable experience they had while climbing with a male. Most of the women are from the San Francisco Bay Area, some are from elsewhere in the United States, and a few are from overseas. I have kept their names anonymous, mostly for the sake of the men who their stories are about.
I have arranged this article in the same manner that the responses were received. Initially, I was told about moments when women felt degraded, looked down upon, or judged. Then, slowly, the positive stories started coming in—stories of empowerment, inspiration, and recognition. You'll find those accounts toward the end of the article. No matter the age, strength, or experience level of the woman, the themes of their negative experiences could easily be grouped under a few main categories. I decided to share only a fraction of the stories I received, selecting the ones I did because they echoed what many other women had expressed, or because they were particularly hilarious.
These are the true stories of female climbers—from five-year old girls who only climb the routes in the gym that have purple tape, to professional female climbers who have established routes on multiple continents, competed for national titles, and ticked countless 5.14s. And of course, all of us in between.
Here is what we've experienced while climbing with the boys.
Making Assumptions
There was no conversation about who would lead what pitch, he just assumed I didn't want to lead at all.
He told me not to worry because there were some smaller, easier boulders down the hill, unaware that I was completely comfortable with highballs and trying hard boulder problems.
He set up a top rope on a climb I had led as a warm up several times in the past and told me it would be a little heady for me.
He kept on shouting beta to me on a climb that was like five V-grades below what I usually climb.
This guy was spotting me on Acid Wash, a really low climb in the Happy boulders. I really didn't want a spot because it's so low and I had enough pads, and he wasn't spotting any of his guy friends.
One time a boy said I probably couldn't do the one he did because I don't play any sports.
All of my friends had to leave Smith, so I met up with this guy who was a mutual friend. I had never climbed with him before. We got to the wall and he started teaching me how to tie a figure eight knot. This was the day after I sent my first 5.13.
Discouraging women from trying hard, heady, or powerful climbs
He told me I should stick to vertical climbing because girls aren't built to climb anything steep.
We were climbing at the Red and he said I shouldn't try anything in the Motherlode because women don't usually like those kinds of routes.
My boyfriend was belaying me on Pope's Crack in Joshua Tree and some random guy walked past him and said, "Bro, I hope you know this isn't one of those easy climbs. She probably shouldn't be on that."
The same dude at Dogpatch tells me not to even attempt a problem because it's too hard for me because I'm short.
I like climbing with girls because they say, "Good job! You're almost there!" And they cheer me on. Boys don't usually say that stuff.
A guy told me I probably shouldn't try any highballs because women are all afraid of heights, and the only reason why they climb heady stuff is because they want to be seen as a badass.
My climbing partner never encourages me to try anything harder than what he can climb.
One time this guy I barely knew told me that if I was going to try this certain route that I should be very careful because it's sandbagged, has tricky pro, long runouts, and insecure feet. I did the route and yeah, it was hard, but none of what he said was true.
He discouraged me from climbing a certain boulder problem because he said if I sent it, it would probably get downgraded.
Being Bro-y, Cocky, or Douchy
When I said that I wanted to onsight a route he started racking the quickdraws onto his harness and said that putting up the draws was the only way he could control the situation of me leading.
One time at a birthday party there was a boy who climbed all the routes I couldn't get to the top of and then he told me about it a lot.
He told me that I need to wear Lululemons to do a high step.
I was warming up in the gym and this guy started tickling me while I was climbing.
I don't think I'll want to climb with boys when I get older because I usually don't like people who show their nipples in public.
About five other girls and I were trying Go Granny Go in the Buttermilks and this guy came and did it in his approach shoes and then did pull-ups on the finish jug.
When we were climbing in Joshua Tree he asked me and my friend if our boyfriends had given us enough pro for the climb we were about to do.
I climbed with a boy once and he got mad because he couldn't get to the top.
I was climbing a boulder problem in the local climbing gym and about four guys were watching me climb, but none of them pulled the mats underneath me. I fell and landed on the floor, which is cement.
There is this one guy at the gym who follows me around and only climbs the boulder problems I try, even though he is much stronger than me.
One time one of the boys in my climbing camp was belaying me and I looked back at him and he wasn't looking at me so I got really scared. I think he was looking at his friend doing a handstand.
Attributing our strength to something other than…our strength
I overheard a guy say that the only reason why this girl sent Tales of Power in Yosemite is because she has tiny hands.
He told me that I was better at slab climbing than him because having my center of gravity lower on my body gives me an advantage.
After I sent my project, he said that it was probably easier for me than him because I weigh less.
Whenever I send something that climbers typically think of as "girly" (slabby, balancy, delicate, or crimpy) he always mentions that I did it because I'm a girl.
If I can climb a crimpy boulder problem he can't, he says it's because I have small hands.
One time when I was climbing with a male, I suggested that we avoid a certain pitch because I had a bad feeling about it. It looked like it could be chossy and maybe even wet. We ended up doing a variation that led us to the left of the line we were originally planning to do, and as we climbed we could see that it was, in fact chossy and damp. He asked, "Who told you to avoid that pitch?" totally assuming that I couldn't have predicted the bad conditions all on my own.
So there you have it. To be honest, when the stories started rolling in, I cringed a little (after laughing out loud in a coffee shop and nodding my head in agreement). I so badly didn't want to write some man-hating article that bashed on dudes and didn't address the fact that men can be valuable climbing partners. But, that's not what I was hearing from the girls. I thought to myself: where are the stories of that time you sent your highball project because you had some burly dude spotting you? What about when that guy said, "You're gonna crush this," even after he flailed? What about when he asked you if you thought you guys should rappel down or walk off the back, because you're always good at judging that kind of stuff? What about that time it wasn't about gender at all, what about when it was just rock climbing?
Slowly, I started hearing about these experiences. I didn't have to ask for them. It usually happened like this: a woman would tell me about a time a guy did something totally degrading, and then a few minutes or days later, she would come back and say something such as, But I have a lot of male climbing partners who don't act like this. Many of them treat me no differently than their guy friends and recognize that I bring something unique and valuable to the table, that they can learn things from me that they can't learn from male climbers.
Yes, how true that is: women experience this sport in a way that is so different from men, and we all have a lot to learn from each other. All of the negative stories were that of men assuming we had nothing to teach them. That's the common thread.
I received one story about a positive experience while climbing with a male that captures the spirit and character of all the other stories as well. Here it is:
I'm all racked up. My shoes are on, uncomfortable as always. They feel tighter than normal. The brisk Squamish air bites at the back of my neck. I tuck the remaining stray pieces of hair behind my helmet. I take a deep breath and look up at my climb. I think of turning to my partner and telling him to go ahead. Tie in to the sharp end, I want to say. Lead this pitch. Lead all of the pitches. It's not that hard. You're much better than me anyways. My pride or my stubbornness stops me. My male counterpart is a much stronger climber than me and he's much more experienced – perhaps not in trad climbing, but he's certainly been exposed to (and excelled at) this sport much longer than I have. Squamish used to be his stomping grounds anyways and for more than one reason I feel like I haven't earned my spot here. I feel pre-emptively embarrassed and also that I have something to prove. 'You've got this,' he tells me. Against almost exactly 50% of my will, I slip my hand into the crack. I make a fist and feel the granite against my knuckles. Right, I think. This is about climbing. Four pitches later and we're at the top, looking over a beautiful deep blue sky filled with clouds and mountains. I stopped being concerned with if the climb was hard enough or if my technique was good enough a long time ago, somewhere on Pitch 1. I looked at my partner and his male-ness did not concern me, impress me, depress me, or intimidate me. In fact it did not enter into my mind at all. It was just beauty and human-ness that filled my soul now.
Weeks later we are sitting in his father's kitchen, recounting details of our Canadian explorations. He says, completely seamlessly, that I'm actually the better climber in a lot of ways. I think he's insane but that is beside the point. He tells of how he respects the way I push my limits, how I deal with my fear. He is being genuine. Honest. His ego isn't in the room and though he could walk up boulder problems I could only dream of one day touching, he isn't concerned with that. He's not trying to prove anything. I didn't need his validation; certainly not in the way that I as a female would want validation from a male. It's not about who the better climber is and in what ways. It never really is about that, for me at least. I didn't need his encouragement as a male, only as a climbing partner.
And yet. I have to admit that I've had enough experiences as a female climber that make me weary; weary of being judged, weary of being undervalued, weary of being categorized by something other than my experience or my ability. I'm not afraid because I'm a girl. I'm afraid because I'm 30 feet up on a highball and this crimp is fucking tiny. I'm not sending my projects – not because I'm a girl, but because I haven't been training.
You can go ahead and include me in the list of people who would like to lead this pitch. I'm a girl and I'm also capable of placing gear. Sometimes those dynamics are real and sometimes they are imagined. But what a nice experience to have had a really lovely break from the chain of stereotypical bro-yness that can wear us ladies down sometimes. I'm sure we have our own stereotypes to break too. I've tried my best to let go of taking too seriously the gendered aspect of climbing now. There are those experiences that will reaffirm the great things about climbing with guys and there are the experiences that will inspire us to prove them wrong. It's kind of a win-win if you ask me.
A sincere thank you goes to all of the women who contributed their stories. You are the authors of this article. I'll leave you with more of their words; this is very important and overdue:
To the males respecting and encouraging the females out there, a big thank you. We know you need the respect and encouragement too and we've got your back.