Welcome to our latest installment of Better Know a Setter, featuring the incredible routesetters of Touchstone Climbing. Today we introduce you to Sean Nanos, an Evolv National Team athlete, former foreman of Dogpatch Boulders and now Head Routesetter for the entire Touchstone Southern California region. Sean joined the crew in December 2014 and quickly made a name for himself with his distinctive sets, strong work ethic, and winning smile. Read on to learn more about the crusher behind your favorite problems.

Tell us a little about yourself. When did you start rock climbing? What was your introduction to the sport?
I started climbing at 16 while attending a boarding school in New Hampshire. I learned trad climbing first and didn't care much for bouldering or sport climbing. For my last two years of high school there, everything I did revolved around climbing. I loved it and I'm super fortunate to have learned to climb with some really extraordinary people and on beautiful New Hampshire cliffs.
How did you end up in the Bay Area and working with Touchstone?
I was 20, living in New Jersey at my parents' house and doing what I do best, which is absolutely nothing. My brother had already moved to Oakland with his band at the time and were on a two-month tour. I saw them play in New York and they convinced me to go with them until they hit Philadelphia where I could take the train back home.
They kept convincing me to keep going with them just until the next stop. Philadelphia turned into me ending up in Atlanta and being like "Uhhh, how am I supposed to get home from here? I have no money." Turns out my parents were in cahoots with my brother and the band to get me out of the house. So I tagged along on their month-long journey back to Oakland and got to see a lot of cool places along the way. That's how I ended up in the Bay Area.
Working as a massage therapist in Alameda I could finally afford a gym membership to get back into climbing (at this point I hadn't been climbing for almost two years). I climbed at Great Western Power Company for about a year and expressed an interest in routesetting to the manager there. Shortly after I was approached by Touchstone's head setter and asked If I wanted to forerun with them; he offered me a job that same day. I was psyched!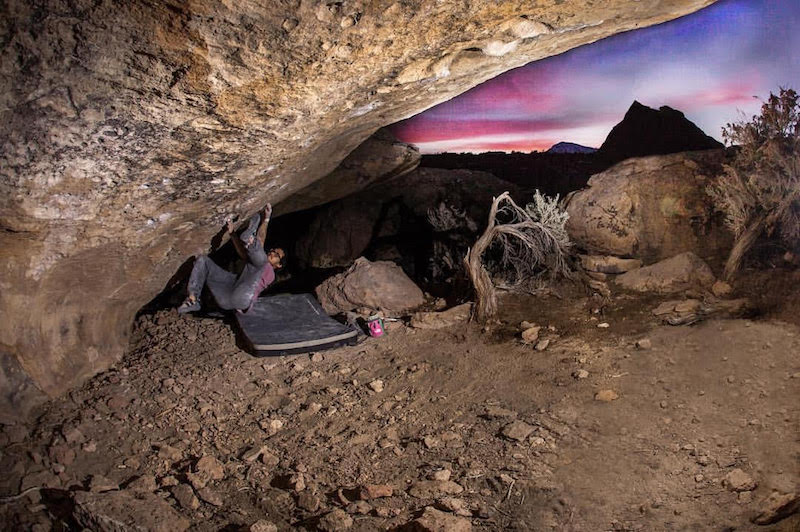 What are your thoughts on setting gym routes/problems? Do you have a personal philosophy or style when it comes to setting?
Oh geez, I mean setting is obviously super fun or I wouldn't still be doing it. But the intent behind every problem I set can change. Sometimes I set something as a trainer (all pinches, crimps, crosses, compressions…); or sometimes I set to highlight a very specific type of movement; or I go for purely aesthetics; or it's a combination of all of these things. My favorite obstacle that I come across while setting is getting stuck trying to set some specific movement and asking myself, " How the heck do I get them to do this?!" I absolutely love the challenge of it, and as much as it hurts when it doesn't work out the way you want, it only motivates me more to try it again and do it better.
I don't think I have a style, but most of my coworkers would probably argue that I do. I get a lot of heat from people saying my routes/problems are "reachy," which is funny to me because I'm only 5'2'' and have an ape index to match. If I had to guess what my style is, or at least the flow of my setting, it would resemble a spring: very tension-y, tick-tacky and tight moves to an explosive large move (not reachy, just big!).
On another note, setting is pretty taxing on your body. We climb every day for work, plus climbing or training on weekends. Sometimes it's difficult to want to get out and climb your projects after climbing all week and knowing you'll have to climb again come Monday. But we do, and it's nothing short of a miracle! Or maybe it's just insanity…jury's still out.
How often do you get to climb for fun? Do you have anything big on your tick list?
I climb for fun about every week or so, whether it be at the gym training or on a weekend trip outside somewhere. I want to go back and finish Swordfish Trombone in the Happys ( I like pockets, by the way). I also really want to do Thunderbird in Tuolumne, and generally do more Yosemite bouldering since it always seems to kick my butt. Something hard would be cool too; maybe a V13 if I can find the right one!
What is your proudest climbing accomplishment?
Nothing really stands out…I guess I don't have one. Every time I climb something it feels like my proudest moment, until I climb something else and then that feels like my proudest moment. I forget the feeling of accomplishment pretty quickly, which is probably why I like to climb.
What about your lowest climbing moment?
Getting back into climbing after a two-year hiatus. That was pretty rough.
What else do you do for fun?
I play a lot of video games and I like playing Dungeons and Dragons (Pathfinder, specifically). I also play guitar, but only for myself and my own wellbeing. I also enjoy playing chess, although I'm not super good at it.
What is the best piece of advice you've ever received?
Climbing-related advice? Probably from my friend (and fellow routesetter) Jono: "Just freakin' send it already so you don't have to do it again!"