Bay Area peeps, we have some VERY exciting news for you. Maybe the most.
No, seriously, you should sit down for this one.
.
.
.
Okay, are you ready? Because we're announcing an all-new, all-amazing mega proj:
Pacific Pipe Climbing in West Oakland!!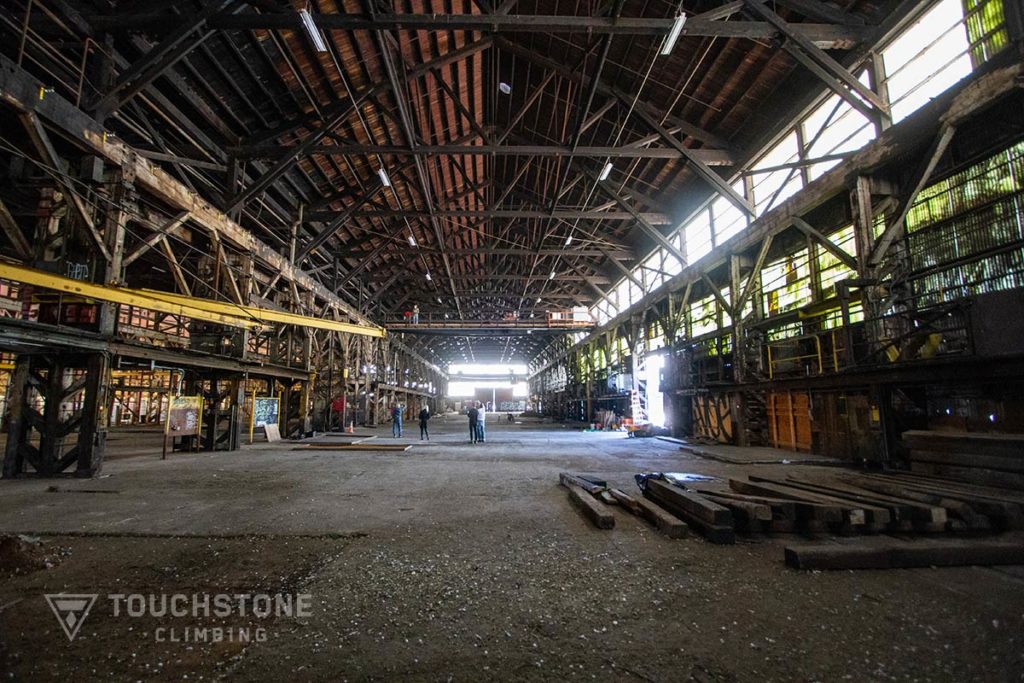 That's right! The East Bay is getting a fully updated, fully featured, full-service climbing gym.
The Deets
You know we're going to have some incredible bouldering, PLUS all the top rope and lead climbing your heart could desire on walls over 50 ft. tall! We'll be working with Walltopia again to ensure that West Oakland gets the most innovative (and most baller) climbing terrain possible. Pacific Pipe will also house all the yoga and fitnesses classes the community could want.
The floor plan for Pacific Pipe is 55,500 sq. ft.—over double the size of Berkeley Ironworks, which is currently the largest climbing gym in the East Bay.
Building History
Originally built by Pacific Tank and Pipe Co. in the 1920s, the Pacific Pipe warehouse was once where many notable Bay Area infrastructural components were manufactured and stored, including sections of the Bay Bridge, the Jack London Square Amtrak Station, and parts of the old San Francisco Museum of Modern Art building. We love celebrating the history of our cities, and we're especially stoked to revitalize this decades-long abandoned space while maintaining its industrial roots.
"We're thrilled to be part of a community as passionate and welcoming as West Oakland," says Heather Bellgreen, Touchstone's Marketing Director. "We'll be creating a cutting-edge gym for climbers and non-climbers alike, and we can't wait to provide programs that will serve our neighborhood to the fullest!"
Opening Date
We are hoping for a 2020 opening date. After our previously announced gyms in North Berkeley and Pasadena, Pacific Pipe will be Touchstone Climbing's 15th gym in California! ???
Follow Pacific Pipe on Social!
As stoked about Pacific Pipe as we are? Then be sure to follow us on Instagram and Facebook so you can stay in the loop on all the updates. See you in West Oakland!