Last week, Team Touchstone held its first ever team tryouts at Berkeley Ironworks. The event drew climbers of all ages and ability levels, testing their strength, technique, and ability to work as a team. Climbers who participated in tryouts were vying for spots on every level of the Berkeley Ironworks team, from the recreational level all the way up to the Competitive Team. The climbers began their tryouts with a group session on some specially set boulder problems. These boulder problems were designed to test climbers on the specialized movements often encountered in competitions; climbers were tested by double dynos, no-hands slab climbing, climbing on volumes, and tricky mantles.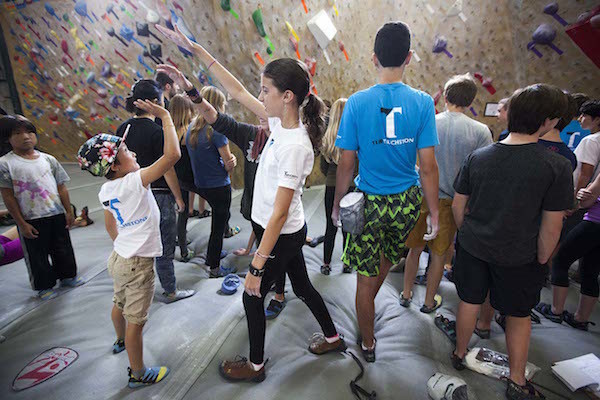 The group session allowed our climbers to collaboratively approach and solve the boulder problems they were given. The coaches looked not only for climbers who stood out in terms of strength, but for climbers who were able to effectively communicate beta, help their teammates, and contributed to the high-energy atmosphere of the session. Though the coaches stepped in to offer beta on occasion, the climbers relied mainly on each other for advice and encouragement, which is a key element of any team dynamic. Sends and falls were all met with high-fives and cheers from the crowd of team climbers, which created a vibe that was as positive as it was contagious.
After finishing their climbing session, the climbers were taken to the fitness area to undergo baseline strength testing. This gave the coaches a chance to evaluate the physical strength of both new and current team climbers, giving them an idea of which areas will be important to develop in the upcoming season.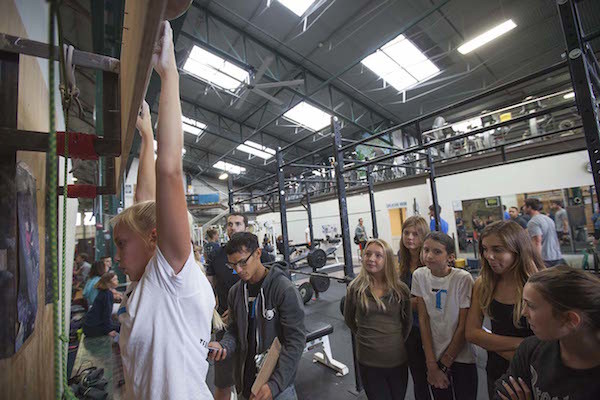 Climbers performed maximum pullups, maximum hangs on the Beastmaker hangboard, and maximum leg lifts while hanging on a bar. While climbers pushed themselves to give their best during strength testing, they were reminded by their coaches that strength is only one component of climbing.
The Team Touchstone program aims to develop climbers who are well-rounded both as athletes and as individuals. We aim to develop climbers who are both strong and technical, great athletes and great people.
The tryouts concluded with a group core conditioning session, the same workout that our competitive team does 2-3 times a week. For the uninitiated, this workout is, for lack of a better word, brutal. The climbers who came to tryouts performed exceptionally well during this workout, showing that they do indeed have the strength and toughness to train with Team Touchstone.
Team tryouts were an excellent experience for climbers and coaches alike; our climbers got to push themselves on specially set climbs and in strength training, and the coaches got to facilitate an awesome event that brought climbers from all levels of the team together to climb, train, and work together. It's great to see the progress that our climbers have made during their time on the team, and to reward their hard work with the privilege of moving up to a more intensive team.
As the Team Touchstone family continues to grow, we can't wait to see what the future holds for all of our amazing climbers! To keep up with all Team Touchstone happenings, check us out on Facebook and Instagram!